Father Michael Van Sloun, writes in an article for The Catholic Spirit, the newspaper of the Archdiocese of St. Louis, that "Confirmation increases and deepens baptismal grace, unites the person more firmly to Christ and the Church." 
 The faith journey of three youths receiving the Sacrament of Confirmation this year reflects the journeys of the thousands of others who this year walked the same path leading them to unity with Christ through example and prayer. 
Jocelyn Olivares
St. Anthony Parish, Riverside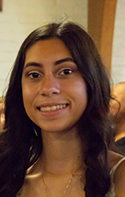 "My parents are my teachers, that's how it all began," said Jocelyn Olivares, 16. 
 Her parents have been teaching youth confirmation at St. Anthony Parish in Riverside for the last four years. When her older brother began attending Confirmation classes, she would tag along with him. She took an interest in what they discussed and asked her parents if she could be enrolled the following year. 
 "She was always passionate about it," said her father, Carlos. "She did three years of confirmation because she wanted to learn." 
 As she gained more knowledge, her faith and beliefs grew even stronger. 
 "At the end of the year we discussed the gifts of the Holy Spirit and got more in depth with how we could use it in our lives," Jocelyn said. "I've learned to be more forgiving and to be kinder." 
 Inspired by the story of St. Anne, mother of Mary, she chose to be given the name of the saint during her Confirmation ceremony. 
 "It was very important for my kids and my family to continue our faith because I think that our faith is the best thing that you can give to your kids," said Carlos. "Learning about our faith is what is going to help us in our lives. She is the one to decide to continue her faith with our help."
Sydney Perez
St. Paul the Apostle, Chino Hills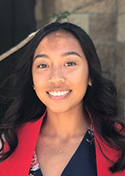 For Sydney Perez, 16, a close group of friends are a big part of her journey of faith with God. She began Confirmation classes with four of her best friends and the group received the Sacrament together in April at St. Paul the Apostle Parish in Chino Hills. 
 "I think going through Confirmation together not only strengthened my relationship with my friends but it also strengthened my relationship with God as well because I knew that my friends are people who I can rely on and I know I can confide in them when it comes to my faith because they are going through the same thing as I am," said Sydney, who chose to be named after St. Teresa of Avila, patron saint of those with deceased parents. She lost her father over a year ago. 
 "I feel it was important for her to receive that final piece to the puzzle with Baptism, First Communion, and then Confirmation," said her mother, Divina. "Just seeing the big picture of her journey as a Christian, as a Catholic. And her going through it with her friends just made it even more meaningful. They are her sisters in Christ. It's like an outline of where she should start to proceed with her life."
 Becoming more involved in the life of the parish is the next step in Sydney's journey. Inspired by the talks she witnessed at retreats by youth confirmed before her, she signed up for the parish's Catholic Student Body ministry. 
 "That will give me a chance to help others being confirmed next, and help them live out the same faith journey that I was able to live," she said. 
Annette Botello
St. Vincent Ferrer, Sun City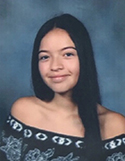 Annette Botello, 16, served as a lector for four years at St. Vincent Ferrer Parish in Sun City before she enrolled in Confirmation classes. 
 "Ever since I received Holy Communion, it was obviously the next Sacrament. I wasn't quite sure what to expect or what to receive out of Confirmation," said Annette. "But it changed my life in praying more and being able to speak in front of people and becoming more involved in my church, and, overall, learning more on how to worship and to pray." 
 Soon after enrolling in Confirmation classes, she was eager to grow even further in her faith so she joined the youth ministry. A youth leader that Annette knew who was heavily involved in the ministry led a holy life that she aspired to. She joined the youth ministry to get to know her and over the years, the two became friends and have been going to Adoration together on Fridays since spring break. 
 "I'm very young but it really opened my eyes. I hope to continue to go now that I am able to have more understanding," she said. 
 After receiving confirmation on May 31, Annette is excited to take the next step on her faith journey. 
 "My next step is to not let this just be another sacrament and then not go back to church and not do anything. Confirmation changed me," she said. "I'm now in the youth ministry, I'm in the youth group, I became a group leader, I am a lector. I feel like this would help me continue my journey and just spread my wings and spread Jesus' word to all people."
---
 Malie Hudson is a freelance writer based in Riverside.