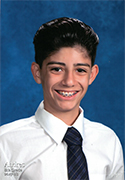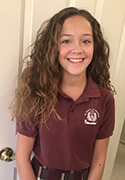 Andres Cardenas of St. George School, Ontario will attend Aquinas High School, San Bernardino next year, it was announced. Kaitlyn Wichterman of St. Jeanne de Lestonnac School in Temecula will attend St. Jean de Lestonnac High School. Ashley Wilkins of Sacred Heart School, Palm Desert will attend nearby Xavier College Preparatory High School next year. Isabella Sabbarese of St. Thomas the Apostle School in Riverside will attend Notre Dame High School next year.
 "Isabella is also an outstanding role model to all the younger students of what a young, Catholic woman should be," said St. Thomas Principal, Dr. Dian Pizurie.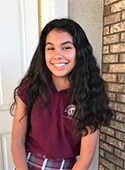 This Bishop's Scholarship provides up to four years of tuition support to attend one of the four Catholic high schools in the Diocese. Applicants are asked to describe and discuss their commitment to God, faith, education, family, community and volunteerism and explain why they wish to attend the particular high school they have chosen. In addition to letters of recommendation, certificates of achievement and awards, applicants are expected to create a personal essay and may do so using multi-media, video or the Internet.