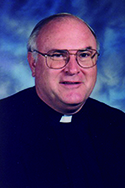 Fr. Cima and Fr. Felker were called to eternal rest on Nov. 18 and Dec. 3, respectively. Fr. Cima, who was 83, had dealt with the impacts of Alzheimer's Disease in his retirement years. Fr. Felker, who was 71, died of complications from pancreatic cancer.
 Redlands Catholics will remember that both men provided strong leadership at what were then the city's two parishes in the 1990s. Fr. Felker served at Sacred Heart Parish for a decade, the last six years as pastor, while Fr. Cima served as pastor of St. Mary Parish from 1991-97. The two parishes were merged to become The Holy Name of Jesus Parish in 2006.
 "It's kind of hit people hard," said Sharon Callon-Schwartz, Director of Mission Advancement for The Holy Name of Jesus Parish. "A lot of longtime parishioners from both locations are saying, 'Father Joe, too? We just lost Father Cima.' "
 Fr. Felker was born April 10, 1946 in Chicago. He was ordained an Oblate Father in June 1973 for the Archdiocese of St. Paul, Minnesota. He came west to the Diocese of San Bernardino in 1989 to be near and help care for his aging parents in Hemet. His first parish assignment was as an associate pastor of Our Lady of Lourdes, Montclair. He was incardinated into the Diocese in 1994, the same year he was appointed as pastor of Sacred Heart. Following his time there, Fr. Felker was assigned to St. Thomas the Apostle Parish in Riverside, where he served as pastor until his retirement in 2007.
 "He will be remembered for his caring for those in nursing homes…for his hospitality to brother priests and his down to earth ability to communicate in compassion with people from different cultures in their concerns," wrote Bishop Gerald Barnes in a letter announcing Fr. Felker's passing.
 His Mass of Resurrection was celebrated Dec. 15 at St. Thomas the Apostle Church.
 Fr. Cima was born in Leon, Spain on January 9, 1934. He was ordained a Passionist Father in 1958 and served as a missionary priest in Spain, Guadalajara, Mexico and Tijuana, Mexico. After serving in parish ministry in the Archdiocese of Los Angeles, Fr. Cima came to the Diocese of San Bernardino in 1985. He served in Spanish language ministry and as Associate Pastor of St. Edward Parish, Corona; Precious Blood Parish, Banning; San Gorgonio Parish, Beaumont; St. Francis Xavier Cabrini Parish, Yucaipa; and Our Lady of Guadalupe Parish in Ontario. He was incardinated into the Diocese in 1989.
 In November 2016, as he struggled with the effects of Alzheimer's, Fr. Cima relocated to Guadalajara where he was cared for by a priest colleague, Monsignor Oscar Sanchez Barba. His Mass of Resurrection was celebrated there on Nov. 18.  In addition, a Memorial Mass for Fr. Cima was celebrated at The Holy Name of Jesus' Columbia Street church (the former St. Mary's Church) on Dec. 4.
 "Father Jose served well, with a missionary spirit," wrote Bishop Barnes. "May he now rest in the Light and Peace of Christ."