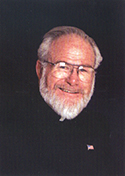 Fr. Erickson, who had been in failing health for several months, died at Valley Health Care in San Bernardino at the age of 85. Fr. Miller's passing was more unexpected. He passed away at his home in Banning at the age of 75. 
 "It was a tremendous sadness for our local Church," said Monsignor Tom Wallace, a longtime colleague of both priests. "Both were real movers and shakers in our Diocese. They were both so dedicated. They loved their ministries and they loved their people."
 Fr. Erickson was a native of Riverside, baptized at St. Francis de Sales Parish, where he attended and graduated from both grade school and high school. Following his ordination as a priest for the Diocese of San Diego on March 19, 1958, Fr. Erickson's first assignment was as associate pastor at his home parish.
 In those early years he forged a close friendship with Father Phillip Straling, who had been a year behind him in the seminary. The two were preparing to take a vacation to Africa in the summer of 1978 when Fr. Straling received word that he would be the founding Bishop of the new Diocese of San Bernardino. Fr. Erickson was the first person he told. 
 "Having someone with whom I could talk over the news was a great blessing to me and it sealed our continuing relationship as priests called to serve the people of God," Bishop Straling recalled in a written message upon hearing of Fr. Erickson's passing.
 During his years of active ministry, Fr. Erickson pastored several parishes in the Diocese, including Christ the Good Shepherd, Adelanto (1963-66); St. Mel, Norco (1966-74); St. Margaret Mary, Chino (1974-81); St. Catherine of Alexandria, Riverside (1981-85); and Our Lady of the Lake, Lake Arrowhead (1987-97). His pastoral ministry also included Catholic Charities in Colton and work as a pro Synodal Judge in the Diocesan Tribunal.
 Bishop Barnes was the chief celebrant in the Mass of Resurrection for Fr. Erickson held at Our Lady of the Rosary Cathedral on Nov. 8.
 Fr. Miller's life was celebrated Nov. 12 during a Vigil at Our Lady of the Rosary Cathedral, where he had served as pastor/rector from 1997-2004, on Nov. 12 and the following day with a Mass of Resurrection at St. Francis Xavier Cabrini Church in Yucaipa. There, it was noted that Fr. Miller was a leader in fostering ecumenical and inter-faith relationships in San Bernardino. 
 Rabbi Hillel Cohn, speaking at the Mass, pointed out that Fr. Miller was the only Catholic priest ever to serve as President of the San Bernardino Clergy Association. Father Miguel Ceja, who gave the homily, credited Fr. Miller with helping to found Inland Congregations United for Change, the PICO-affiliated community organizing group in the Diocese.
 He was "uncompromising in his pursuit of justice," Rabbi Cohn said of Miller. The two often shared conversations about the state of the nation and world.
 "He was the thoughtful, insightful critic of the status quo," Rabbi Cohn said. "It emboldened him to be more resolute in the pursuit of the good."
 Fr. Miller held a number of critical positions in diocesan leadership during his years of active ministry, both before and after the formation of the Diocese of San Bernardino in 1978. He oversaw ongoing formation of Permanent Deacons and Deacon candidates, and created a youth ministry program for San Bernardino and Riverside counties. Following the creation of the Diocese, Fr. Miller served as full-time director of the Center for Catholic Ministry (1978-80), the precursor to the Diocesan Pastoral Center. He served as Director of the Diocesan Office of Pastoral Services from 1994-97, a time in which he was instrumental in the creation of the Diocesan Vision. He was also a presence on many important diocesan boards, committees and councils through the years.
 When Bishop Barnes created the ministry of Episcopal Vicars for the two counties of the Diocese in 2004, he selected Fr. Miller as the first Episcopal Vicar for San Bernardino County. Bishop Barnes acknowledged a closeness with Fr. Miller during their many years of shared ministry.
 "He reached out to me," Bishop Barnes said during remarks at the end of the Nov. 13 Mass. "He was the one who was always there with a phone call or a note, to give encouragement." 
 In addition to leading Our Lady of the Rosary Cathedral, Fr. Miller also served as Pastor of Our Lady of Fatima (now Our Lady of Hope) Church in San Bernardino (1977), and St. Catherine of Siena Parish, Rialto (1980-94).
 It was revealed publicly following his death that Fr. Miller was honored in 2002 as Chaplain to His Holiness, Pope Saint John Paul II, which bestowed upon him the title Monsignor. He had asked Bishop Barnes to keep the honor in confidence. This was consistent with the selflessness and humility of Fr. Miller's ministry, Fr. Ceja said. "He chose to be meek, not arrogant."
 In retirement, Fr. Miller made frequent connections with Fr. Erickson in his unofficial ministry to visit other retired priests of the Diocese.
 "He enjoyed listening to Fr. Erickson's stories," Sister Mary Frances Coleman, R.S.M. says of Fr. Miller. "He related to them."