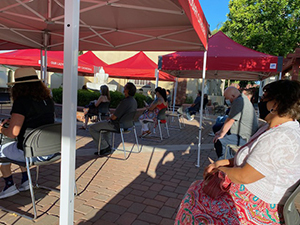 As the winter months approach, the parishes of the Diocese continued to operate under the most restrictive state guidelines for COVID-19 while offering regular Masses and other Sacramental liturgies.
 The parishes of Riverside County were able to return to offering indoor Masses with up to 100 people in attendance beginning Oct. 3, after the county briefly moved from the state's purple tier to the less restrictive red tier. On Oct. 20, however, the state announced that Riverside County's rate of new infections of COVID-19 had increased enough to move it back to the purple tier. This limits church services to outdoors only.
 "It is real, and it saddens us," Bishop Gerald Barnes wrote in a statement reacting to the news that Riverside County was once again limited to outdoor Masses. "But let us also remember that Our Lord is at our side…let us remain close to Him, and to each other, as we continue this difficult journey of the pandemic."
 San Bernardino County, which forms the other half of the Diocese, has remained in the purple tier. In their Oct. 20 announcement, state officials said specific interventions would be taken to reduce COVID-19 rates in the counties of Los Angeles, San Bernardino and Riverside – which are all in the purple tier.
 Meanwhile, with colder temperatures coming, diocesan and parish leaders are strategizing alternate ways to celebrate upcoming liturgies and Feast Days that usually pack churches. New guidelines released by the Diocese allow for a "hybrid" approach, in which parishioners could watch a livestreamed Mass at home and then come to their church to receive communion. A limit of 10 people will be allowed in the church at one time, under the new guidelines. Still, the Solemnities of All Saints and All Souls, the Feast of Our Lady of the Guadalupe, Las Posadas and Christmas all figure to have a different feel this year. Mountain parishes, impacted by colder winter temperatures, are working with County officials in attempts receive a waiver to be able to hold indoor Masses.
 The Catholic schools of the Diocese all continue to provide instruction through distance learning only.
 In his Oct. 20 statement Bishop Barnes called on the faithful to do their part to reduce the presence of COVID-19 in the two counties of the Diocese.
 "Let us be mindful to take the well-known health and safety precautions, wear masks, wash your hands often, practice social distancing and get tested for COVID-19, even if you do not feel sick," the Bishop wrote.