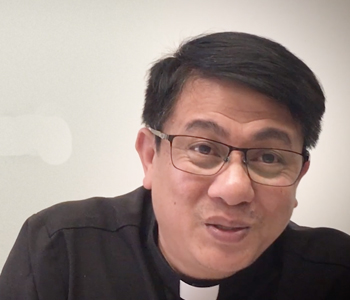 ANAHEIM—An unexpected but liberating realization came to Father Gerald Vidad after he attended the Amazing Parish Conference in Cincinnati, Ohio in May.
"Leadership should not come only from the priest," says Fr. Vidad, Pastor of St. Anthony Parish in Upland, in a recent video. "Although the priest may make the decision you can empower your people by asking them to participate in the leadership."
Pastors, parish staff and ministry leaders from 20 parishes and one Catholic school in the Diocese, along with a team led by Bishop Gerald Barnes and teams representing Catholic Schools and the Ministry Formation Institute (MFI), will continue to explore the Amazing Parish program at a conference in Anaheim Oct. 28-30.
Empowerment of parish staff members and ministry leaders is a key tenet of Amazing Parish, which was developed by Pat Lencioni and John Martin in 2013. Diocesan leaders became aware of the program at the Joy of the Gospel Convocation held in Orlando, Florida in July of 2017.
It brings elements of business management combined with pastoral principles of parish life, emphasizing trust among leaders and staff, commitment that is mission-driven and accountability. 
The Diocesan Planning Department had been working to strengthen the pastoral planning process in parishes. Learning about the Amazing Parish program in Orlando caused them to look at the process from a different perspective, said Chris Vital, Program Coordinator in the Department.
"We saw what we were missing – the [parish] staff portion," Vital said. "We said, 'this is where we need to start.' "
Last October, Planning Department staff, along with Diocesan Employee Relations Manager David Acosta and Father Rafael Partida, Episcopal Vicar of the Riverside Pastoral Region, attended an Amazing Parish Conference in Milwaukee. In May of this year, the Diocese took it a step further and invited parish teams from St. Anthony and St. Mary Magdalene in Corona, along with ministers from the Diocesan Office of Catechetical Ministry, to attend the Amazing Parish Conference in Cincinnati. 
"What we have learned in the Amazing Parish process is that leadership is all connected," says Ray Almanza, Catechetical Consultant to the Diocese. "The pastor feels supported when we make decisions together as a team."
Amazing Parish emphasizes three cultures: a Culture of Discipleship, a Culture of Teamwork and a Culture of Prayer.
There is still an opportunity for parishes in the Diocese to attend the Amazing Parish Conference in Anaheim. Those who would like more information on how to do that should contact Chris Vital at This email address is being protected from spambots. You need JavaScript enabled to view it. or call (909) 475-5145.