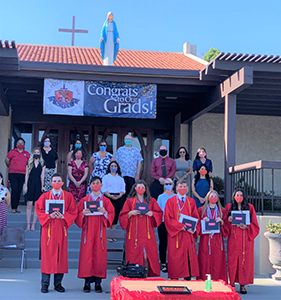 RANCHO CUCAMONGA—Its Faith in Our Future mantra has paid off for the St. Peter & St Paul Catholic School community, as it proudly celebrates its first graduating eighth grade class. Although only six students were part of the 2020 graduating class, the excitement over this milestone is shared by hundreds of people who have long anticipated this special moment.
On Friday, May 15, the graduates were surprised with a personal appearance by teachers and staff in a convoy of vehicles and honking horns celebrating their achievement. The visit to each graduate's residence was an emotional and special celebration signifying the completion of their final year at St. Peter & St. Paul Catholic School. When the school entered this new world of seclusion for protection, there were many uncertainties and unknowns. Teachers and staff immediately initiated distance learning objectives and continued to educate students virtually. Amidst all the social distancing they continued to engage with students during class meetings, virtual lunchtime gatherings, and weekly Rosary prayers.
The eighth-grade graduates continued to work hard to fulfill their curriculum and service hours requirement over these nine weeks, away from school, their friends, and their school community. The "Saints" rose to the challenge of remote learning, social distancing and successfully achieved their goals becoming the first class of eighth grade graduates and marked a major milestone in accomplishments for St. Peter and St. Paul Catholic School. The small school's foundation in faith drives its motivated and compassionate teachers and staff to excel at providing a wholesome educational atmosphere that develops and prepares students to be well-rounded citizens both in church and society. The Saints and their families continuously meet the challenge and commit to its achievement of academic excellence!
St. Peter & St. Paul has had an exceptional preschool and kindergarten program for over 35 years. For many years the expansion was a merely a dream. Thanks to the dedication of devoted parents, staff and the parish, the school began adding grades in 2010. In 2017, the school added its first sixth grade class, and committed to expand all the way through seventh and eighth grade. The school thanks its families, parishioners, and school supporters for sticking with them through the challenges and achievements over the years. "Your continued support for our school and students reminds us of how blessed we are to have a close, tight-knit community," commented Principal Kelly Burt. "Congratulations Class of 2020- We couldn't be any prouder!"