Father Erik: You being a priest of the Diocese of San Diego, how do you recall the relationship between the faithful in San Bernardino and Riverside counties and the diocesan leadership in the San Diego area leading up to 1978? 
 Bishop Straling: Well that was a tension, so when we became a Diocese in 1978, some people really welcomed it. They said "finally the Pastoral Center is close to us, we can get to it if we have some needs or concerns." Others said, "Gee, the Bishop is too close to us now." I think there was some of those who really wanted the independence, where they can do their own little thing, where others would welcome the community of the local church. So, it was a big change.
 Father Erik: You had been assigned to the parish of Our Lady of the Rosary in San Bernardino as Pastor leading up to 1978. How did it affect you to receive the call to be the first Bishop of San Bernardino?
 Bishop Straling: Well, let's go to before being called the first Bishop. I really identify with San Bernardino and Riverside and the Palm Springs area because I was raised in that area. My parents were married at Holy Rosary Church, and I was baptized there in that parish. I went to St. Bernardine School in San Bernardino, a great school. And then for high school we had Newman High School in Fontana. San Diego, in that sense, was a long way off. But when it came to thinking about a decision to go into the priesthood, my dad was an avid Franciscan, and he said, "I can't understand why you don't become a Franciscan." And I said "well, I've grown up knowing the Diocese of San Diego and I feel that's my home." And, so, Father Michael Keane who was the Pastor at Immaculate Conception parish in Colton was really the one who kind of encouraged me in my vocation. He asked me one day, when I was a senior in high school. He said, "Well, Phil, have you thought about being a priest?" and I said, "Well I thought about a little bit." He said, "Good, I'll call Bishop Buddy and tell him you're coming." I said, "hold on, not so fast." but that was really my turning point and of course at that time the seminary was in San Diego. So, I went to San Diego and a lot of my priesthood and my training was all in San Diego. I spent almost 25 years in that area, eight years in the seminary and I spent 12 years working at the University of San Diego and then four years in diocesan ministry in the Diocesan Center. So, coming back to San Bernardino was kind of a treat for me and then to come back to the parish where my parents were married, and I had been baptized, was a real gift. In one way I had a real attachment for San Bernardino and for Riverside because that was my area.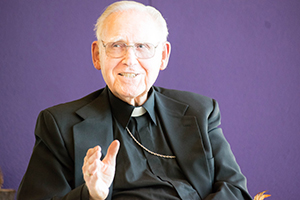 Father Erik: Can you tell us a little about where you were when you received the call to become the first Bishop of San Bernardino?
 Bishop Straling: I really felt good in being the pastor at Holy Rosary parish. And there's been, let's say rumors…everyone really knew that one day there would be a new diocese. So, along with that went the rumor of the week - who might be the possible candidate. I think once or twice my name was brought up, but everyone would say, "Okay that's over, what's the next rumor?" I never thought of myself being the "one," so called. I still recall it was a Friday afternoon when I got a call from Bishop Maher from San Diego. And he said, "Phil I have to see you right away," and I said, "Well it's a Saturday, Bishop, and I have Masses on Saturdays, and on Monday I'm leaving on vacation." And he said, "Phil, I have to see you." So I drove down to San Diego on a Saturday morning and met Bishop Maher in his residence. And I knocked on the door and he opens the door and he said, "Well, hi, I've been asked to tell you that you've been appointed as the new Bishop of San Bernardino." I said "Wow, hang on." And I said, "What do I have to do?" And he said "Nothing, I just have to call the Nuncio and tell them that I told you." I said, "Do I have time to think it over?" He said, "No, I've been told to tell you, I'm just telling you that I'm going to tell the Nuncio that I told you." So, I said "Well I'm leaving on vacation." He said, "We don't know when Rome is going to announce it, so just go and enjoy yourself." So Father Bob Erickson, a classmate from the seminary, and I take off on Monday morning, not knowing when the announcement would come. When we were taking off from Los Angeles airport heading for Africa I said, "Bob, I need a Spiritual Director and have some things to go over with you," but I said, "it's a Pontifical secret." And he said, "What's it all about?" And right then the gal was coming down the aisle with the drink cart. And I said, "Well, Bob, there's a new Bishop in San Bernardino." I didn't say anything and he kind of said to me "Oh my God." And then he asked the stewardess, "give me a double." (laughs) But it was really great for me to be able to have someone I could talk with about that. When we were in Africa, I got a cable from Bishop Maher that it had been announced and so when I came back, the word was already out.
 Father Erik: So, your episcopal ordination takes place in November of 1978. What was that experience like for the new Diocese of San Bernardino?
 Bishop Straling: Well, you kind of go with the flow. But the good part was that the priests, the religious, the laity were so excited. It was really such a big event that, how would you ever organize something like this? But it seemed like everyone kind of pitched in and did their part. So, it was amazing how things came together.
 Father Erik: What was the location for the event, in order to accommodate the large crowds that would gather?
 Bishop Straling: Let's go back and say that I really believe in collaboration. That I don't have all the answers, I don't have all the solutions. And that an Ordination and becoming a Diocese is an event for all of us to be involved in. And part of the discussion was that, let's not just pick one of the largest parishes because then we have to issue tickets to get people in. We said we wanted this to be an event where people can come freely and participate and be part of the celebration. So we looked around for possible buildings and facilities and Raincross Square in Riverside seemed to be the ideal place.
 One of the things we haven't talked about yet is the role of the Diocesan Synod. That you might say, "Why in the world did they pick me to be a founding Bishop?" Well I think my work for the Diocesan Synod was what kind of set the foundation, that we had listening sessions throughout the San Diego Diocese which included Riverside and San Bernardino counties. So, part of it was to say we want to implement Vatican II, make Vatican II living. And Vatican II was saying that all of us baptized, we are all called to be participants in the Church. Yes, you have bishops, you have priests, you have deacons, you have religious men and woman, you've got the laity and all of us are to work together to bring about what the Church is with Christ in our midst. I think that the Diocesan Synod really kind of gave me an insight to a pastoral plan for the post Vatican II Church.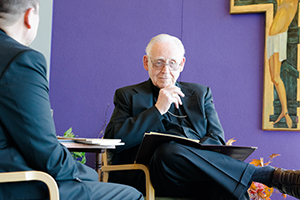 Father Erik: I think people always find some of the statistics very interesting in terms of the number of priests we had in 1978 and parishes you were entrusted with, to when you left the Diocese. 
 Bishop Straling: Well, for those go to Peter Bradley in your Archives and ask him for copies of the Diocesan Directory of 1979 and 1980 and then ask him for the directory in 1995, when I left the Diocese. And I think it is interesting to see what happened. For example, the number of parishes went from 87 to 99, now this is roughly 16 years; the number of Catholics went from 235,000 to 590,000 and I think you said today we have over a million.
 Father Erik: 1.7 million Catholics in the Diocese of San Bernardino.
 Bishop Straling: Unbelievable, and it's also the fourth or fifth largest Diocese?
 Father Erik: The sixth largest in the United States. 
 Bishop Straling: Unbelievable. One of Rome's objections in the very beginning was that we can't make a new Diocese because it's not large enough and can't support itself. But the number of priests we had went from 180 priests to 229, deacons from 17 to 82, now here's where there's a difference - the number of religious women, went from 219 to 162, the number of brothers from 57 to 14. But then add to this all the number of laity, who came to be helpers and ministers in our parishes through the institute of education. I think that's one of the great gifts of the Church today. That we talked about how we need a priest and we need religious men and women. But also, we need the laity to help carry the banner of the Church. And I think one of the joys that I have is to see the institute for education took off.
 Father Erik: As you reflect over the years, what were some of the challenges, but even more importantly, the blessings that you experienced during your time as the first Bishop of San Bernardino? 
 Bishop Straling: Well, I think as we know that in the beginning there were protests about my being ordained as a bishop, that I was not Hispanic. And I look back and see how, in a way, it was kind of brining to the attention of the whole church in the United States the need of taking into consideration the growth of our many ethnic communities. We weren't giving the attention that was needed to Hispanics. And I think all the protests of my being not Hispanic and being named as bishop, they said "What's going on?" It was a great pain to work through all this, through the protests, through the concerns, but it brought us about in a new way to put all these things together. And I think that the growth of the Hispanic ministry in the Diocese of San Bernardino was a great blessing. I think it led the Universal Church in the United States to realize that they need to be more concerned about appointing bishops that represent the community. And I think after the protest in our Diocese that it helped lead to other Hispanic bishops being appointed, but also Vietnamese bishops and Chinese bishops, to help represent the total community. So that was good. Out of it came something local but I think also it was something that was done for the Church of the U.S.
 Father Erik: What are other blessings or challenges?
 Bishop Straling: Well, I think the other challenge, and I think it was a great pain for us was the sexual abuse scandal that took place in the United States and in our own Diocese. And I think the challenge was, what could we had done better? To recognize the problem and to deal with that problem. And I think to get those who were the perpetrators, to get them out of the ministry. I think part of the challenge was that in the early days, we sent them off to get treatment and so forth. The psychiatrists would send us back reports, 'so they can do this and this and this.' And finally, they came back and said, 'no, they cannot be cured.' And so, we were looking for some direction and I think the pain we had to go through, and also, how do we deal with the victims of abuse? Looking back, that was a very painful experience and yet I think, we tried to deal with it as best we could in those times. 
 Father Erik: Can you talk about the arrival of our first Auxiliary Bishop?
 Bishop Straling: I had found out that I had to present to them some names, for possible candidates. So I check with all the various dioceses in the west and various names I presented. Then I also went down to San Antonio, and a man by the name of Gerry Barnes was on the list… and Rome came back and said "Okay, we will appoint him as an Auxiliary Bishop." And so I was pleased to hear that good announcement. I have to laugh though. I tell Bishop Barnes this, that when I went down to San Antonio for his farewell at the seminary. Archbishop Flores, great man, said to me in Spanish, "some come to pray, and some come to rob." (laughs). I still recall that Bishop Barnes came to meet me prior to the announcement at my residence on 17th street in San Bernardino. I can still see him coming across the lawn. 
 Father Erik: You worked together for three years, right? 
 Bishop Straling: It gave us a chance to really kind of gel and also, he learned where we were, and he could then build upon that. There's a book called "The Peter Principle" and its theory is that all of us have gifts that we can share, and we come, and we build, and we succeed in building those, then we come to a plateau, and we can be there for a number or years. But then ultimately, we can begin just to slide down. And as I looked into my ministry and where we had come in San Bernardino I really felt we reached a certain plateau. We covered certain things, there are some things I couldn't do, gifts I didn't have that Bishop Barnes was able to provide and to give. Also, he was able to see new things that could be done that I never saw. 
 Father Erik: You said that it's all the foundation and yet you said, "Turn it over to someone else to take it to another level."
 Bishop Straling: I see how Bishop Barnes and Bishop Rutilio and all of you have built upon that, and where we are today. I think about our Serra House that we began in San Bernardino. Many of us see it as a great success. And then to what Bishop Barnes was able to. The new place, the new facility and the number of vocations you have today. Thanks be to God. That's a great gift. But again, I think, you were able to carry it on in new light. That's the gift. 
 Father Erik: Earlier today we had a chance to kind of share the common names of people that were very important and helpful to you at the Diocese, to see some of those still in ministry but some who have retired or moved on to other ministries. What does that stir in you?
 Bishop Straling: So many that were part of my working team, are all gone. Others of us are still carrying canes and walkers and are retired. There are a select few in ministry. But many of those who collaborated with me are now retired. And this is also for the sisters and for the brothers. I think of the sisters we had at St. Bernardine for example, a great group of gals, the Benedictines in Riverside, the Carmelites in Redlands. I think part of it is to say, 'God give them eternal rest.' For us who are still walking, 'give us strength.' And for those who are still in ministry, 'carry on.' 
 Father Erik: And so now as a Diocese turns 40 years old, what message do you have for the people of San Bernardino today?
 Bishop Straling: I've always been interested in making sure that we try to make connections from the present age with what went on in the past. One of the gifts I think for the Diocese of San Bernardino, I try to do it here in Reno, is to have an Archives department. Because in one way, I think we can lose connections with what happened before hand. And I think the priests and the sisters and the brothers who built the Diocese of San Bernardino, those who built the Diocese of San Diego. I think just to recall Bishop Charles Francis Buddy, who had a great influence upon me, who ordained me as a priest in 1959, which is back with the dinosaurs. But again, I think keeping that connection, is a joy. When we lose that connection, we kind of lose part of our very being.