COVID-19 Response Fund created to assist brothers in sisters in need due to the many impacts of the spread of the coronavirus for families in crisis with nowhere else to turn for help.
By Ken F. Sawa
CEO/Executive Vice President
Catholic Charities San Bernardino-Riverside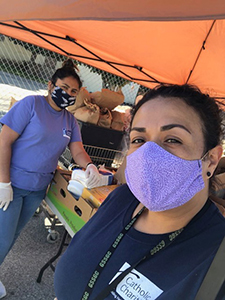 Beginning on March 20th, Catholic Charities' staff quickly re-organized in order to be able to provide essential social services for economically disadvantaged, vulnerable or otherwise needy individuals and families in our local communities as requested in the Governor's Executive Order. Since then, at multiple locations throughout the diocese, Catholic Charities has provided direct aid that has benefited over 5,000 children, adults, and seniors that were directly impacted by the spread of COVID-19.
With strict protective measures and protocols in place to protect staff, volunteers, and those in need, staff placed dozens of homeless persons in motel shelter, prevented numerous evictions and foreclosures, avoided utility shut-offs, ramped up our various food distribution programs, engaged in homeless outreach services, delivered groceries to isolated seniors, and also provided burial assistance for several families that lost a loved during this time.
Now, despite limited "re-openings", COVID-19 remains a clear, present, and ongoing crisis. It is concurrently a public health crisis and a national economic crisis. As we are all aware, the lives of families have been interrupted by countless disruptions as a result of the virus – including employment, childcare arrangements, school closures, fears and insecurities, and many other immediate changes that have caused innumerable crises. Homeless individuals have also been directly impacted with their means of survival being completely disrupted as well.
Catholic Charities provides compassionate social services that respond to the suffering of the vulnerable and those in crisis in our local communities. So facing the impacts of the spread of COVID-19 is our challenge, and as always, Catholic Charities will do all we can right now for those with the greatest needs as resources allow.
The COVID-19 RESPONSE FUND was established so Catholic Charities can do more for more families in need – particularly those that are not eligible for current assistance programs. And equally as important, the fund is an opportunity for others in our Church and community to do their part to help our struggling brothers and sisters that need the aid of others. 100% of all contributions to the fund will directly assist families in desperate need of community support at this time. There are far more families in need than there are available resources – so every dollar makes a difference.
Yet in the midst of the many challenges that face our nation, our state, and our region at this moment, Catholic Charities is also looking ahead to the upcoming struggles of poor families that do not have the financial resources or a safety net to face the unprecedented challenges that await them throughout the upcoming recession. Many of those most profoundly impacted by the harsh realities of today will continue to require our attention and care as the economy begins its slow recovery. Those with the least recover the slowest during a recession. The help of those who are less effected now and are able to move forward on their own will be critical in helping those left behind.
Regardless of the amount of support, each contribution makes a difference. On behalf of those in crisis that desperately need our help, we graciously thank you for your support. Catholic Charities is a strong Catholic presence in the region, always representing your heart and hands in the community. 
DONATION PHONE:
(909) 763-5920
DONATION BY MAIL:
Catholic Charities
1450 North D Street, San Bernardino, CA 92405