By Rabbi Hillel Cohn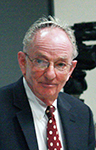 The celebration of the 25th anniversary of the Episcopal Ordination of Bishop Gerald Barnes is one in which the wider community joins the Diocese of San Bernardino. 
 For the past quarter-century Bishop Barnes has been far more than the leader of the Diocese. He has been a leader and participant in the wider community. In so many significant ways he has enriched the lives of us all.
 The motto that Bishop Barnes selected for his coat of arms and that guides his ministry is "Amar Es Entregarse—Love is the Total Giving of Oneself." While Bishop Barnes has honored others over the years with an award bearing that motto—an honor I received in 2013 for which I will be eternally grateful—he has lived by it.