By Sister Hortensia Del Villar, S.A.C.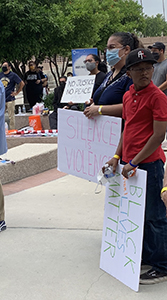 The killing of George Floyd calls us, as people of faith and people of goodwill, to grieve in solidarity, to pray, and to take action to oppose racism in all its forms.
I was blessed to be part of an event on June 2 that included all three of those responses. The Coalition of Rethink Public Policy, which includes members of the African American community and different faith groups including Inland Congregations United for Change (ICUC), gathered in protest at the San Bernardino County Government Center to demand that racism be declared a public health crisis.
Amid the COVID-19 pandemic, we the participants wore face masks and observed social distancing as we passionately denounced the pandemic of structural racism that has claimed yet another life, George Floyd. He died at the hands of law enforcement as he pleaded for his life saying, "I can't breathe."
Racism has pressed on the lives of our African American brothers and sisters for an agonizing number of years, an outrageous number of times. How can we continue to breathe as a society while racism chokes the life of our brothers and sisters? Despite making up only 13 percent of the U.S. population, Black Americans are two-and-a-half times as likely as white Americans to be killed by the police. As a community of faith, we are called to uphold the dignity and equality of every human being because we are all created in the image and likeness of God. The U.S. Bishops' 2018 Pastoral Letter addressing racism "Open Wide Our Hearts, the Enduring Call to Love," strongly affirms that "racist acts are sinful because they violate justice. They reveal a failure to acknowledge the human dignity of the persons offended, to recognize them as the neighbors Christ calls us to love (Mt 22:39)." In this same letter, the Bishops humbly and honestly recognize that "too many good and faithful Catholics remain unaware of the connection between institutional racism and the continued erosion of the sanctity of life."
The death of George Floyd, and the systematic racism his death represents, has caused protests and civil unrest in different cities in the U.S. and around the world. As I watched the images of protests and civil unrest on the news, I have remembered the words of Saint Oscar Romero of El Salvador: "I will not tire of noting that if we really want a real end to violence, we must remove the violence that lies at the root of all violence: structural violence, social injustice, exclusion of citizens, repression." In this same vein, Pope Paul VI, who was canonized on the same day as St. Oscar Romero, offered a clear message to the faith community on World Day of Peace nearly 50 years ago - "If you want peace, work for justice."
A longing for authentic peace based on justice moved many of us to attend the protest to stand in solidarity with our African American brothers and sisters. I arrived at the rally around 9:50 a.m. and was inspired to see Father Manuel Cardoza, Pastor of Our Lady of Hope Catholic Church in San Bernardino, and other local parish leaders as well. As we listened attentively to one of the speakers, we all applauded when Rakayla Simpson, a public policy and advocacy fellow with BLU Educational Foundation in San Bernardino, declared: "Black people dying is a state of emergency and if the Centers for Disease Control can declare violence a public health emergency, then racism that causes that violence can be declared a public health issue as well. Enough is enough." The San Bernardino County Board of Supervisors were asked to consider declaring racism a public health crisis at their next meeting, Tuesday, June 9.
The phrase "enough is enough" resounded deeply in me. These words were followed by a testimony of a mother who shared the story of police brutality against her son. She ended her sharing as she broke down in tears repeating: "I'm tired of being tired. I am tired of being tired. I'm tired of being tired." Many of us were moved to tears as we listened. Fr. Cardoza, whom I could see from a distance, kneeled. During a time when COVID-19 has brought our nation and the world to its knees, and has moved us to take drastic unprecedented actions to protect lives, could this be a time of grace when we allow the Spirit to move us to action in taking unprecedented steps to eliminate racism from our hearts, our homes, our churches, our nation and our world?
After the closing prayer, as I began to walk towards the parking lot, I saw a sign that read, "Silence is Violence." I stopped. I felt confronted. I felt called to conversion. I was reminded, as the U.S. Bishops' letter states, that "racism comes in many forms. It can be seen in deliberate, sinful acts…too often racism comes in the form of the sin of omission, when individuals, communities, and even churches remain silent and fail to act against racial injustice when it is encountered."
Becoming aware that I need conversion, that we need conversion, may not sound like a drastic unprecedented action to eliminate racism. However, this can be a humble and powerful first step. One of the main messages of the Pastoral Letter is the call to conversion: "What is needed, and what we are calling for, is a genuine conversion of heart, a conversion that will compel change, and the reform of our institutions and society. Conversion is a long road to travel for the individual. Moving our nation to a full realization of the promise of liberty, equality, and justice for all is even more challenging. However, in Christ we can find the strength and the grace necessary to make that journey."
A genuine conversion of heart is reflected in a life that compels change, transformation. On June 3rd in his prayer for George Floyd, Pope Francis implored, "we cannot tolerate or turn a blind eye to racism and exclusion in any form and yet claim to defend the sacredness of every human life." As we continue our urgent call to conversion, let us reflect on these questions:
In what ways do I turn a blind eye to racism?
What steps can I take to confront racism and exclusion?
---
Sister Hortensia Del Villar belongs to the Sisters of the Guardian Angel community and serves as the Director of the Diocesan Office of Community Services and Outreach Programs.