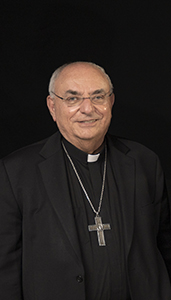 Bishop Gerald Barnes celebrates his 75th birthday on June 22, a milestone occasion that brings prayers, blessings and good wishes from throughout the Diocese.
"We give thanks to God for your life, your ministry as a priest and a bishop, and for your faithful shepherding of the Diocese of San Bernardino for the past 28 years," said Auxiliary Bishop Emeritus Rutilio del Riego in a video message he recorded with Coadjutor Bishop Alberto Rojas.
The two bishops offered Bishop Barnes a special birthday blessing.
"God of all creation…we give you thanks for his vocation to the priesthood and we pray for him on the day of his birth," Bishop Rojas said.
At the age of 75, an Ordinary Bishop is required by Church law to submit his letter of resignation to the Holy Father, who can then choose when to accept the letter, signaling the retirement of the bishop.
While Bishop Barnes is to submit his letter of resignation on June 22, he is expected to remain an additional year beyond his retirement age. Bishop Barnes announced in December of last year shortly after Coadjutor Bishop Rojas was introduced that the Apostolic Nuncio to the United States, Archbishop Christophe Pierre, indicated Bishop Barnes would remain the Ordinary Bishop of San Bernardino for an additional year. All Episcopal planning and activity are proceeding under that assumption.
This allows for a lengthier period of Episcopal Transition in the Diocese. Bishop Barnes has led the Diocese of San Bernardino, the nation's sixth largest, since 1995. He is currently the longest serving bishop of one diocese in the United States.
To read Bishop Barnes bio click here
To the right of this page you can offer Bishop Barnes a birthday wish. 
View Bishop Rojas' and Bishop del Riego's Birthday Blessing below:
[powr-media-gallery id="2e9ea440_1592608453"]
---