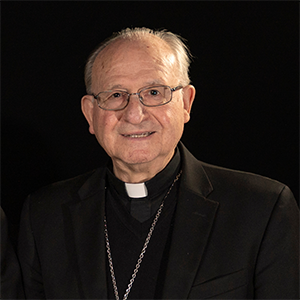 SAN BERNARDINO—After ministering in the United States for more than 50 years, Auxiliary Bishop Emeritus Rutilio del Riego has returned to his home country of Spain to spend the remainder of his retirement.
He made the announcement in a message sent to a clergy, seminarians, religious and Diocesan Pastoral Center employees on Friday afternoon.
"This is a message of gratitude to God for the many years I have exercised the ministry in the Diocese of San Bernardino, first as a priest and then as Auxiliary Bishop," the Bishop wrote. "The Lord has allowed me to accompany Bishop Barnes, Bishop Rojas and all of you in service to God's people in this local Church. It has been a great privilege to serve with you."
Bishop del Riego, the third Auxiliary Bishop in the history of the Diocese, has been retired since 2015 but continued to reside in the Diocese and maintain a presence in ministry. His central ministry since 2015 has been to serve as Director of Pastoral Formation at St. Junipero Serra House of Formation. He has also continued to participate in the V Encuentro Process and in the meetings of the California Bishops and U.S. Bishops.
He has maintained close connection to his siblings in Spain and will now return there to be nearer to them.
Bishop Gerald Barnes offered words of thanks in the wake of Friday' announcement.
"I am grateful for all he has done in service to the people of the diocese.  He has been an example for all of us of a missionary disciple," Bishop Barnes said.  "He has been a good confidante for me, a brother and a true friend. I will miss him and hope that he knows he always has a home here among us."
Bishop del Reigo came to the Diocese in 1999 after ministering in Washington D.C., New York and Texas. He served as Pastor of Our Lady of Perpetual Help Parish in Riverside until 2005 when he was Ordained a Bishop. He is scheduled to depart for Spain on Oct. 28.
"To all I wish to say farewell and ask for your prayers," he wrote in his message. "I,too, will pray for you and for your intentions."
---
[powr-reviews id="c4595533_1603502385"]