By Natalie Romano

 More than a month after their brush with death, a Riverside couple that survived the Las Vegas tragedy is now leaning on their Catholic faith to help them cope. Greg Speer, who serves as president of the Pastoral Council at St. Andrew's Newman Center, took a bullet to the back during America's deadliest mass shooting. His wife of 30 years was unharmed.
 "We are truly blessed," says Tammy Speer of Moreno Valley. "We are thanking God for our family's safety."
 Fifty-eight people lost their lives when a gunman, perched in a hotel suite, opened fire on the Route 91 Harvest Festival on October 1st. With many of the concert goers coming in from Southern California, the impact of the tragedy was felt across the Diocese. At least nine of the victims had strong connections to the Inland counties.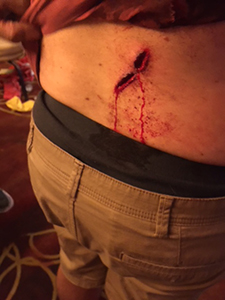 Crowds lined the streets for the procession of Navy veteran Christopher Roybal. His Mass of Resurrection was held at St. Matthew's in Corona on Oct. 12. Another victim was a close friend of Notre Dame High School student Katie Saniez. This inspired an Oct. 5 prayer service at the Riverside campus. Other parishes, like Our Lady of the Assumption in San Bernardino simply chose to have a prayer service in response to the tragedy. 
 Greg Speer was among the 546 injured during the attack that finally ended with the sniper's suicide.
 Before the shooting started, the Speers and three others including their daughter, Brittany, were enjoying the concert. Tammy says she loves country music for it's "wholesome lyrics" and "American spirit." She was particularly looking forward to Jason Aldean, but his performance was cut short by firecracker-like sounds.
 "Brittany grabbed my arm and said, 'It's gunfire, get down!' We all ducked down really quick. We were listening and trying to figure out what was going on. People began running and screaming."
 The group took off but as they made their way through the outdoor venue, Greg was hit. 
 "It was a slicing hot sensation. I remember my daughter freaking out. I remember Tammy saying I love you." 
 Greg says he wanted to remain calm for his family's sake but inside, he wasn't sure of his chances.
 "Oh my God, will I be able to run? If I can't run, how do I convince my friends and family to run? How do I save their lives?" he recalls thinking.
 Tammy, a registered nurse, assessed his injury and knew it wasn't life threatening.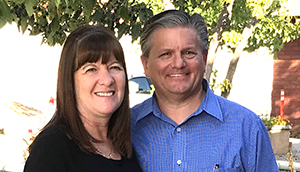 "I saw that it was a graze wound. It was deep and needed stitches but it was OK." 
 Wounded, bleeding and dodging bullets, Greg carried on with his family. Their long path to safety was a nightmare of near-misses.
 "The bullets were really close and I was just waiting to get hit. I felt liquid splashing on me and not knowing if it was blood or beer," explains Tammy.
 Her panic rose after losing sight of her daughter and friends ("I'm looking to the left, to the right and I can't find them").
 Greg's shouts got her feet moving again and they made it out. The rest of their group had hid under a Budweiser truck until there was a pause in the shooting. They all reunited near a neighboring Hooters Hotel, already a makeshift triage center. There, Tammy and Brittany, who is an EMT, got to work with only a basic first aid kit. Despite his injury, Greg, a medical clinic administrator by trade, began barking orders for towels, water, gloves - anything to help the effort. 
 Brittany treated a man with multiple gunshots to the arm while Tammy helped another man ready for revenge. He had a gunshot wound from his back through his abdomen but he was angry and determined to go find who shot him, she said.
 Soon it was obvious that Greg, himself, needed to be treated for his injuries.
 "It really took Tammy taking a picture for me to realize I do need stitches and we can't just put duct tape on this. We were bending down as the bullet was bouncing up and in retrospect, if I had been standing there or maybe one inch over it would have hit my spine," says Greg.
 Lying in a hospital bed, he continued to reflect and pray the Rosary, something he does every day.
 "I was happy to be alive. I was thinking it could have been worse. I was just, 'what's my next step, what does this mean, how do I think about this, how do I reflect on this?' "
 As Greg was dealing with the lingering questions of a survivor, Tammy was dealing with the fears.
 "I walked into the waiting room and it was all windows. I was thinking I can't be here, it's not safe. It really freaked me out. I was alone and scared."
 Tammy hid in a corner until she gathered herself enough to sit down. She took comfort in the fact it was a Catholic hospital. Two priests came in prayed with her. Early in the morning, Greg was released and the family headed home. They were greeted by Greg's brothers including one who had given a lifesaving tip before the show.
 "My brother said make sure to check where the exits are at and just the day prior, I looked at the maps. Well sure enough the way we ran was very wide open." 
 Did Greg thank his brother?
 "I did many times, many times," he laughs.
 Other well-wishers reached out to the Speers, wanting to hear their story and offer support. Fellow parishioners, whether they knew the Speers or not, approached them with open arms. 
 "With each person we tell that we are OK, the healing spirit can be felt. God is with us." 
 Tammy follows the investigation hoping to learn about the shooter's motive.
 "Greg's a little more upbeat. I would like to know a 'why,' " she says. "It doesn't make sense. It will never make sense but still…why?"
 She's not alone in her thinking. Tammy attended a crisis debriefing offered by Riverside County. Several dozen people showed up to share their stories. Tammy found that hearing their feelings validated her own. 
 "I feel sad for the people that lost their lives, that were more seriously injured, that weren't injured but mentally are having a rough time. I'm having a rough time but I'm OK. I pray for all of us that have gone through this."
 Survivors have formed online support groups and even started getting Route 91 tattoos. Tammy and Brittany got matching ink on their ankles, something unimaginable prior to the shooting. 
 "I'm a conservative person but this gave me some sense of control," she said of her tattoo. 
 Tammy's not sure when she'll attend a large scale concert again but when thinking of the Harvest Festival she says the better part of humanity won out.
 "There was so much positive that night. Even though it was crazy, there were so many good people out there helping other people."
 Greg agrees.
 "Don't lose hope in people. Have faith, really have faith."
---
 Natalie Romano is a freelance writer and parishioner of The Holy Name of Jesus in Redlands.