Sr. Cathy White

SAN BERNARDINO—Two long serving ministers in the Diocese who played pioneering roles in the ministries of Child and Youth Protection and Catholic Cemeteries, respectively, are set to retire in December.
 Sister Cathy White, sP, leaves her post of 14 years as Director of the Diocesan Office of Child and Youth Protection. Deacon John Barna retires as Director of Catholic Cemeteries after eight years on the job.
 Both were the first to ever hold the position of full-time director of those respective offices. They came to their positions with related experience but no direct background in the specific area of ministry and they credit the Holy Spirit with guiding their work through the years.
 "I looked at the position and I thought, 'that would be interesting,' "  Sr. Cathy recalls of coming to the Diocese to work in Child and Youth Protection. After decades in the ministry of Catholic education, she knew how to teach and she knew children. "This was another way of helping kids."
 She began in the Diocesan Office of Human Resources overseeing the background checking protocol that became mandated when the Diocese adopted the National Charter for the Protection of Children and Young People in 2002. Two years later, she became the full-time leader of the ministry, which also included a robust training program for all Church employees, as well as children and parents. It became the Office of Child and Youth Protection in 2008.
 Under Sr. Cathy's leadership, the Diocese has been in full compliance with the National Charter every year. In the last five years alone, they've trained more than 30,000 people in the Virtus Program. The reward, she says, has been opening people's eyes to such a critical issue.
 "When I hear, 'I never knew all this existed. I'm so glad I took this training,' or 'why am I just learning about this now?' that's the greatest reward," she says.
 Earlier this year, Bishop Gerald Barnes honored Sr. Cathy's Office with his Episcopal Amar Es Entregarse Award. She says she is retiring for health reasons and will be relocating to the Mother House of her religious community, the Sisters of Providence, St. Mary of the Woods, in Indiana.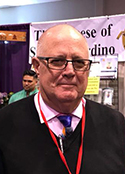 Deacon Barna brought his background in sales to the ministry of Catholic Cemeteries in 2010. This, combined with his pastoral experience as a deacon, made the position a good fit, he says.
 "All my prior experience came to bear; strong sales background, strong people background, and the pastoral side was a plus," he said. "It just seemed so perfect."
 As director, Barna was the diocesan interface with Service Corporation International (SCI) and Western Sequoia Corporation (WSC), the companies who have run the business of the diocesan cemetery, Our Lady Queen of Peace. More importantly, Deacon Barna was the point of contact for families dealing with the grief of losing a loved one, and questions about laying them to rest. It has been a somber ministry, though Barna is known for offering some levity among co-ministers, calling himself the D.O.D. (Deacon of Death). He's earned praise from many families for his pastoral sensitivity.
 "I just listened to them a lot," Deacon Barna says of his approach with grieving families. "You have to understand their need. 
 "The community became quite gracious in sharing their lives with me."
 Deacon Barna said his time was evenly divided ministering to three different publics – healthy individuals pre-planning for their burial, people in declining health for whom death was imminent, and families of those recently deceased. Sister Chilee Okoko, D.M.M.M., who worked closely with Deacon Barna in establishing a training program for the Diocesan Bereavement Ministry, said two words come to her mind in describing his ministry, "kind" and "compassionate."
 "When people are very sick, when they lose a loved one, they are at their most vulnerable. They need all the love and care they can get from the Church," Sr. Chilee said. "He represented that for the Diocese."
 As he found his way in the ministry, Deacon Barna also brought a catechetical element to it: serving as a resource for parish leaders faced with situations related to death and dying – both from a spiritual and financial standpoint.
 "I get calls from pastoral coordinators, pastors, priests asking, 'What do I do?' " he says. "If we've achieved anything, it's that death has a face now. We've become a resource for the parishes."
 In his retirement, Deacon Barna will continue in his diaconate assignment at St. Peter and St. Paul Parish in Alta Loma.