By Malie Hudson

 On April 27, Bishop Gerald Barnes will honor four extraordinary recipients with this year's Amar Es Entregarse Award. The award is given to an individual or group who embody his Episcopal Motto Amar Es Entregarse, "Love is the total giving of one's self." 

 The March issue of the BYTE highlighted recipients Martin and Mary Swanson, and the Valley Missionary Program. In this issue, we introduce the remaining two awardees who will also be honored for their complete dedication to the local Church. 
Rich and Susie Herbst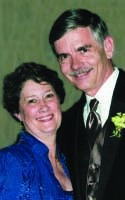 If you've met Bishop Barnes at a Diocesan Mass, you have more than likely met Rich Herbst, too. For nearly 15 years, Herbst has served as Episcopal Master of Ceremonies and Special Assistant to Bishop Barnes for the Diocese. 
 "I've heard hundreds of homilies by Bishop Barnes," says Rich. "I never tire of listening to him preach. I've also been blessed to see him minister in all 92 parishes, all different kinds of environments and situations, school Masses with young children, high school students, college students, young adults, and different cultural and ethnic ministries, Ordinations and Chrism Masses." 
 Rich's wife, Susie, also has a role in many of the Diocesan liturgies, working with the Office of Worship to plan an environment for liturgical worship. Susie is a recognized expert in Liturgical Art and Environment and serves as a diocesan instructor for advanced classes on the subject.  
 Rich began serving the Diocese full time in 2004, after retiring from a 32-year career as a Systems Support Division Chief in the San Bernardino County Information Services Department. In addition to his role as Episcopal Master of Ceremonies, he also serves as a member of the Liturgical Subcommittee of the Diocesan Building Committee. 
 In 2003, Susie began helping the Arts and Environment Ministry at Our Lady of Hope Parish in San Bernardino. She was later invited to be a part of a team to plan the 25th Anniversary of the Diocese. Susie became recognized for her work and was also invited to be on the team to plan the environment for Auxiliary Bishop Rutilio del Riego's Episcopal Ordination in 2005. 
 "It was extraordinary to be involved in the celebration of welcoming a new auxiliary to the Diocese," recalls Susie. 
 The couple met in college when Susie transferred to California State Polytechnic University in Pomona. She was a devout Catholic so the resident adviser in her dorm introduced her to Rich and another student who could provide her with a car ride to attend Mass on Sundays at St. Joseph Church in Pomona. The two became friends during the first year and eventually began dating. They later married at St. Madeline's Church in Pomona. Three children and seven grandchildren later, the Herbsts have continued to keep their faith at the center of their marriage. 
 They are active in their community and at The Holy Name of Jesus Parish in Redlands where Susie oversees liturgical art and environment ministry. They also belong to the Knights and Ladies of the Holy Sepulchre of Jerusalem and the Serra Club of San Bernardino. 
Sister Maria Jennifer Nguyen, L.H.C.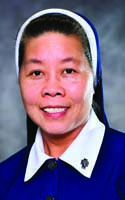 Sr. Jennifer Nguyen is a familiar face at the many gatherings and events that highlight the cultural diversity of the Diocese. She serves as Director of the Diocesan Office of Asian Pacific Ministry and oversees activities within the Korean, Vietnamese, Filipino, Tongan, Samoan, Chamorro, Chinese and Indonesian Catholic communities. Parishes who are in need of resolving a delicate issue within its Asian Pacific groups will also reach out to Sr. Jennifer for assistance. 
 "When the community has a challenge, they would call and consult with me and share with me and then we find a solution together," she says. 
 Since she stepped into her role in 2011, Asian-Pacific Formation Day has consistently become an annual June event where workshops are provided in various Asian/Pacific and English languages. This year, youth will also be welcomed to the event. 
 Leaders from the various Asian Pacific communities also gather together throughout the year to work with local organizations to provide food to seniors and the homeless. This year, Sr. Jennifer is focusing on promoting a new Pastoral Letter released by the U.S. Bishops – "Encountering Christ in Harmony" – a pastoral response that provides support and ideas for ministering to Asian and Pacific Island Catholics. 
 "I'm excited about the new document," she says. "Sometimes we are invisible in a way and this document will help." 
 Her own story is one of struggle, faith and hope. Sr. Jennifer was born and raised in Vietnam. After the Fall of Saigon in 1975, many Vietnamese people fled their country. When she was 13, growing political tensions forced her to escape the country with her 11-year-old brother. She and her brother were among 50 others on a boat to leave the country. 
 "We encountered pirates and were shot at," she recalls. "We were left for dead and hungry and out of food, fuel and everything. We were in the sea for ten days. Many of us were children and teenagers with no parents." 
 "I experienced hunger and thirst and were just floating in the sea and waiting to die. Most of us on that boat were Catholics. The captain was very religious. We were told to say the Rosary and prepare to die." 
 A Dutch ship passing through rescued her, her brother and the other passengers. She spent the next two years in Holland before being sponsored by her older sister to go to America. Five years later, at age 18, she entered her religious order – The Lovers of the Holy Cross of Los Angeles. The community assigned her to work and live in several places including New Orleans, Pennsylvania, Florida, Los Angeles, Orange County and now San Bernardino. She has Bachelor's and Master's degrees in Social Work  and has worked extensively with mentally ill patients. Prior to joining the Diocese of San Bernardino, she worked for 10 years in Orange County as Religious Education Coordinator. 
 This year, Sr. Nguyen celebrates her 30th anniversary of her profession of vows to her religious community. 
---
 Malie Hudson is a freelance writer based in Riverside.