In a ceremony that Bishop Gerald Barnes later called "electrifying," more than 1,500 believers cried, clapped and cheered as Ted Drennan, Charles "Gino" Galley and Juan Carlos Lopez changed their stole - and changed their lives.
 The Mass got underway with a lengthy procession led by the Knights of Columbus, who then flanked dozens of dignitaries including diocesan priests, Auxiliary Bishop Emeritus Rutilio del Riego and finally Bishop Barnes. The seminarians were escorted by their loved ones. The Ordination, start to finish, was tough for them to describe.
 "There is a greater power beyond me that I had an encounter with," said an emotional Father Gino Galley. "I cannot explain it. I experienced it as I lay prostrate on the floor and the whole church was singing the Litany of Saints."
 Father Ted Drennan could only shrug his shoulders and shake his head when trying to find the proper words.
 "This was eight years in the coming and it's indescribable. I can't, I can't," admits Father Ted.
 The church goers were also feeling the momentous occasion, giving such boisterous responses at different moments that Bishop Barnes exclaimed, "This is some group!"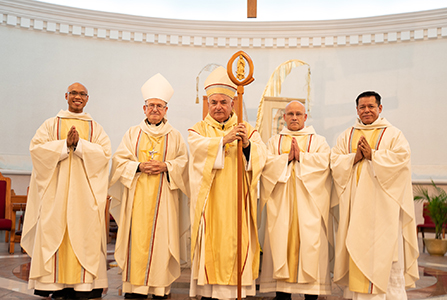 The Bishop then turned to the seriousness of the Sacrament and talked to the men about a renewal that is needed in both the Church and the nation.
 "We need you. We need you desperately," he said. "We need you to help us revitalize our priesthood, our Church, our people...we thank you for saying 'yes.' "
 Father Juan Carlos Lopez knows at times there will be challenges, but he is ready to take them on.
 "I hope to be a good priest," says Fr. Juan. "I hope that I will be able to minister to the people and be faithful to them...especially today when we really need good priests. One person can make a difference."
 To which his sister has no doubt, saying Lopez has been long preparing for the job.
 "As a kid he was always playing priest. Everything that a priest would do, he would do," said Rosa Rivera, sister. 
 One of the more moving parts of the Ordination was The Laying on of Hands, when Bishop Barnes and the rest of the clergy gently embraced the head of each candidate.
 "It was very emotional. My brother priests were coming together saying I'm with you, we're united now," explains Fr. Juan.
 Fr. Ted agreed...
 "They're welcoming you to the order of the priesthood. It was very touching." 
 The retired U.S. Marine had both family members and service members in the audience. Felicia Bone says Fr. Ted was one of her instructors following boot camp.
 "It's so impressive to see he's continuing that leadership role," beams Bone. "I'm so proud of him. I wish him all the best and may God bless him always."
 Other military friends hope Fr. Ted continues to minister to Catholics in the Armed Forces, saying his background makes him uniquely qualified.
 "I think that perspective is important," says Captain Nadji Hariri, U.S. Navy. "It allows him to truly understand the challenges of the families, the challenges of active duty, how service is in the time of war, how you recover, how you don't recover, and how people feel about you in the uniform. It's quite complicated."
 Fr. Gino's family looks forward to watching his priesthood blossom, especially his sister, who is also a Religious Sister.
 "My hopes are that he is faithful to his ministry, faithful to himself and faithful to Christ," says Sister Cherilly Galley, who belongs to the Salesian Sisters of St. John Bosco. "My hope is that his love continues to grow for the Church and for everyone he encounters."
 So how did siblings both end up in religious life? Fr. Gino calls it "a chain reaction of Grace." He says a priest inspired him, then he, in turn, inspired his little sister. And that ripple effect goes on. Two brothers from Our Lady of the Assumption in San Bernardino, where Fr. Gino served for the past year as a Transitional Deacon, got all dressed up in suits to witness the Ordination. Charbill Hatter says he's moved by Fr. Gino's homilies and may want to become a priest or deacon.
 "When he first came to our parish and we heard his voice, we all thought, 'what is that? Is that an angel coming down?' " explains the 11 year old.
 His older brother noted Fr. Gino's kindness to the parish youth.
 "He always has a bright happy face. You'll never see him frowning," says Issa Hatter. "He's absolutely great." 
 The initial assignments of the three priests were not announced at the conclusion of the Ordination Mass, as is sometimes the case.
 After the Mass, well-wishers stood in long lines to take photos with the newly ordained. A couple of people even asked them to hear their Confession (Fr. Gino came prepared, whipping a cheat sheet out of his pocket). Now that it's over, he's just taking it all in.
 "When I see and experience the love of the people, my friends, my family, it reminds me of the love God has for me," says Fr. Gino "Although I'm unworthy and undeserving of His love, He still loves me for my sake and that is the type of love each of us is called to emulate."
---
 Natalie Romano is a freelance writer and a parishioner of The Holy Name of Jesus in Redlands.