On Tuesday, June 22nd, Bishop Alberto Rojas announced our new Diocesan Chancellor, Sister Leticia Salazar, ODN, and new Ministry Formation Institute Director, Dr. Amanda Alexander. For the past year Msgr. Gerard Lopez has served as our Interim Chancellor when Sr. Sara Kane retired from the esteemed position in June of 2020. Maruja Sedano, retires as Director of Ministry Formation after six years leaving it to the promising hands of Dr. Amanda Alexander. Both new employees come from ministerial backgrounds and are looking forward to their new journey here in our Diocese.
Sr. Leticia Salazar, ODN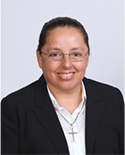 It is with humble joy that I accept Bishop Alberto Rojas' invitation to serve as chancellor of the Diocese of San Bernardino.  I am a member of Sisters of the Company of Mary Our Lady, having entered in 1986. My community was founded by Saint Jeanne de Lestonnac in Bordeaux, France in 1607. The Company of Mary Our Lady has been in the Diocese for over 30 years.
Upon receiving this invitation from Bishop Rojas, I reflected on this call, in light of our charism and in openness to listen to God's will.  In my discernment, the missionary witness of the Diocese and being a Church that seeks and responds to the needs of its people in new ways resonated deeply within me.
This invitation is an opportunity to live the call of our foundress to "put ourselves at the service of the church and society, according to our capacity," In that spirit I have accepted the invitation to this service trusting in the faithful guidance of Our Lord and in the company of our Mother Mary. 
The vibrant pulsating life of the Church in the Diocese of San Bernardino in its diversity is energizing, prophetic and a sign of God's kingdom.  It inspires me to be at the service of this community, to its most urgent needs, as well as all the pastoral services entrusted to me.
I am humbled by the confidence placed in me, and I look forward to the many encounters that will help me grow in my knowledge of the Diocese.  I promise to put forth the very best of myself in this special mission to journey with God's people in the Diocese of San Bernardino. 
I know that I can trust in the prayers of each of you and of my religious sisters.
Amanda Alexander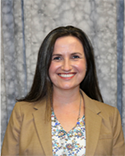 I am delighted to return to the Diocesan Pastoral Center to begin my new ministry as the Director of the Ministry Formation Institute (MFI). In accepting this role, I realize that I am tasked with taking up the mantle of the incredible work begun by Sr. Alice Molina, Sr. Nadine McGuiness, Maria Covarrubias, Steve Valenzuela, and so many others – work that has been given new direction and momentum under the invaluable leadership of Maruja Sedano.
MFI is in the midst of a period of growth, having been recently accredited by both the USCCB and by the Association for Hispanic Theological Education (AETH). Even as it grows upward, MFI must send its root deeper, renewing its commitment to form lay ministers for our parish communities.
Our diocese, indeed, our world, looks very different today than it did in 1998, when the first MFI parish formation program was completed. In partnership with our Bishop, priests, pastors, deacons, lay leaders, and institutional partners, it is my intention to continually discern the emerging spiritual, pastoral, and intellectual hungers of our communities and to develop and offer the formation resources that will not only nourish and satisfy, but also empower our people to minister and evangelize in our diocese and beyond.
There is much work to be done, and I look forward to collaborating with you, learning from your wisdom, and supporting you in your ministry. Siempre Adelante! For the greater glory of God!