By Anneliese Esparza
Managing Editor
SAN BERNARDINO—Deacon Michael Jelley, who has been an influential figure in Diocesan ministry for nearly two decades, retired at the end of August.
Deacon Jelley was ordained to the Permanent Diaconate in 1999, and since then has worked tirelessly to serve the Church in a variety of ministries.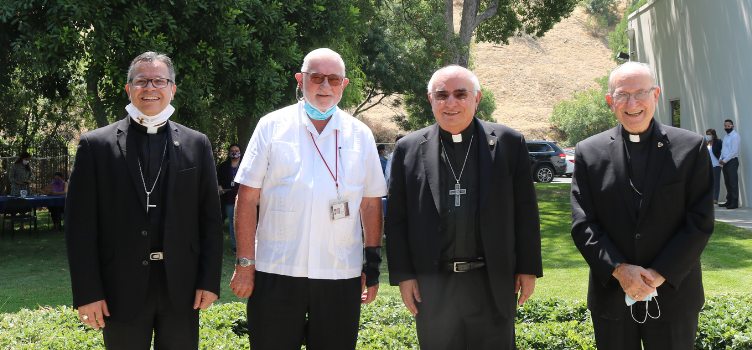 In 2002, Bishop Gerald Barnes appointed Deacon Jelley to lead a new ministry in response to the clergy sexual abuse crisis, where he was instrumental in developing policies and programs to protect children from abuse.
In 2006, he earned a Juris Doctor from California Southern Law School while still working full-time for the Diocese. In 2007, Deacon Jelley was appointed Director of the Department of Ecclesial Services, Vice Chancellor and Vicar for Deacons.
In addition to these roles, Deacon Jelley has also been a member of several committees and boards, including the Bishop's Senior Staff and the Diocesan Curia. He has also been active in Rite of Christian Initiation of Adults (RCIA) ministry, retreat ministry and bereavement ministry and served on the steering committee for the Red Mass (an annual Mass for legal professionals).
Reflecting on his years with the Diocese, Deacon Jelley said he has found it most inspiring to see others deepen their faith and take initiative to serve and lead. "It's really good to see how people have grown, and it's good to know that we've made a difference in the community," he said.
In whatever shape his ministry takes, Deacon Jelley has tried to maintain a focus on serving the individual person. "I've lived by that, realizing that, even when I'm preaching, or whatever it is I'm doing, I'm trying to serve the needs of one person, not trying to change the universe," he said.
In recognition of his work for the Church, Deacon Jelley has been the recipient of several awards, most notably the Pro Ecclesia et Pontifice gold medal by Pope Benedict XVI for service to the Universal Church and the Pope. Deacon Jelley has also received the St. Mother Teresa of Calcutta Award from the legal community and the Amare Es Entregarse Award given to those who embody Bishop Barnes' Episcopal Motto ("love is the total giving of oneself").
Despite his accolades, Deacon Jelley takes a more humble view of his time with the Diocese. "I've certainly had an opportunity to just to walk with people, to do whatever the Bishop needed me to do the best I could," he said.
To thank Deacon Jelley for his service, the Diocese held a reception at the Diocesan Pastoral Center on Aug. 25 which was attended by Bishop Alberto Rojas, Bishop Emeritus Gerald Barnes and Auxiliary Bishop Emeritus Rutilio del Riego, Deacon Jelley's family and Diocesan Pastoral Center staff. Many people expressed their gratitude to Deacon Jelley, including Bishop Barnes, who referred to Deacon Jelley as a "good and faithful servant."
"Thank you for always being thoughtful, honest, inclusive and collaborative. You're always there, no matter what ministry or committee, to give your share and provide your time, your resources ... Thank you for your readiness to volunteer in new adventures," said Bishop Barnes.
In his remarks, Bishop Rojas focused on Deacon Jelley's life of service as an example to all of us. "If God allows me to retire, I really hope to see me going beyond, serving like you're doing it ... I think you've been a beautiful role model for all of us, bishops as well. So thank you for all that. We will continue to pray for you," said Bishop Rojas.
"I know your heart is so used to serving for so long, but enjoy your family, enjoy your friends, enjoy the mountains, enjoy fishing. Enjoy your life," added Bishop Rojas.