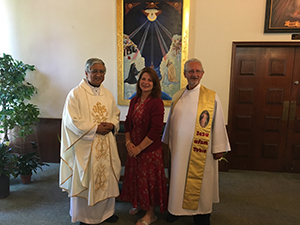 The painting, blessed in April, now hangs in Our Lady of the Lake Catholic Church in Lake Arrowhead. Its inspiration came last summer when Collins and other parishioners went to Poland for World Youth Day.
 The painting, titled "Amazing Grace in the Communion of Saints," highlights a kneeling St. John Paul II and St. Faustina Kowalska, known for her messages on mercy. Between them floats the Immaculate Heart of Mary. The background features more than two dozen figures, some well-known, some not. Local parishioners may recognize former pastor, Father Leonard Krzywda C.R., and a young altar server, both of whom recently passed away. 
 "There's so much grace from all of them. I wanted everyone that looked at it to understand that they are praying for us," explains Collins.
 Our Lady of the Lake Pastor Father Michal Osuch, C.R., was also on the pilgrimage to World Youth Day. He felt he couldn't go home empty-handed after a plea from Pope Francis. 
 "He said he wanted a devotion to Divine Mercy in every parish. He gave me the idea that we needed to have something."
 Collins had the same thought, but a different inspiration.
 "I had a particular experience with the Blessed Mother," she says. "She made it very clear to me it was time."
 The inspiration was specific. She was to paint an icon, which is a traditional type of religious art. It was something Collins had been studying for a decade but a departure from her usual canvas of wildlife. And now that the moment was right, came the question of what exactly to paint. Collins says an image came to her at the Divine Mercy Chapel in Krakow, Poland, where her parish was receiving St. John Paul II and St. Faustina relics.
 "I really felt the Lord telling me what I was going to paint. I could visually see it in my mind," she goes on to explain, "I saw the Blessed Trinity and the angels and the saints."
 The mother of four says she was filled with joy but admits that painting the icon was a little more than she bargained for.
 "I walked out of the doors of the chapel and thought, 'wow, that's kind of hard.' I was kind of hoping for something easier," she laughs.
 That didn't take away from her "overwhelming desire" to get painting. Once home, Fr. Osuch helped make it happen both financially and spiritually. With a patron and prayer group in place, Collins launched into her three month project. Right away, Fr. Osuch said he was impressed.
 "I said 'Molly, oh my gosh, I didn't know God gave you such big talent. You can't waste this gift."
 But for the artist, the icon was daunting and, at times, difficult. Collins says she was weighed down by the style's formalities that dictate layers, colors, and symbols. She finally took the advice of another iconographer.
 "He said let the Holy Spirit teach you, just let go. When I did that, when I gave everything to the Holy Spirit, it finally flowed."
 On April 23 Diocesan Vicar General, Monsignor Gerard Lopez, STL, blessed the icon at Our Lady of the Lake Church. The large acrylic, encased in the gold frame Collins also made, was then displayed next to the relics obtained on the trip. Fr. Osuch says he's thrilled to have this shrine.
 "It's beautiful. Some people don't care too much about Divine Mercy but when they see the picture, they will think, 'I am so happy to have something like this.' " 
 Collins says she got something lasting as well.
 "I had a wonderful opportunity to grow close to God through this whole thing. He gave me a special gift as I was doing the icon; an awareness of his love for me."
---
 Natalie Romano is a freelance writer and a parishioner of The Holy Name of Jesus in Redlands.