By Natalie Romano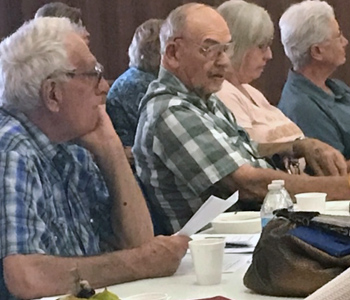 You may not want to talk about death. You may not want to even think about death. So, here's your challenge; try considering death a friend. Or at least, a natural part of our life journey.
This compelling topic was one of many discussed at the Senior Day of Reflection held at St. Frances Xavier Cabrini Church in Yucaipa on October 5th. The retreat, hosted by Father David Andel, J.C.L., and the parish's Young at Heart Ministry, was created to help seniors age with faith and grace.
"The challenges, temptations and blessings are a little bit different from younger in life," says Fr. Andel, who is the Judicial Vicar for the Diocese. "Being older has its own spiritual work for all of us to do. It's easy to deny that work and not confront certain things but we really need to do that."
Through talks and Mass, Fr. Andel addressed subjects like gratitude and forgiveness as well as managing real life experiences like funeral planning and illness. The latter really connected with nearly 88-year-old Anthony Shymanski, whose recent hospitalization left his voice weak but his emotions strong.
"I had a time when I didn't want to live," reveals Shymanski, a St. Frances parishioner. "Deacon Dan [Hudec] came to my house. He told me lots of things and that's what I followed, and it helped. That's why I wanted to come to this with my wife."
After 61 years of marriage, his wife, Marion, wanted to be at his side, but at times it was tough.
"I could tell my husband was crying. I knew some of the words about death were hitting him," says Marion. "When we go home, I want to have him open up to me and let me know how he's feeling."
Expressing hopes and fears is the very thing Fr. Andel recommends, saying this will "guide your decisions" on how to live out your later years. Conversely, Fr. Andel notes there's a time not to talk. Namely when dealing with adult children or grandchildren who don't want to listen.
"I think it's just good to smile knowingly sometimes because you do know better, you have more experience."
He made his point with an old Swedish proverb, "the afternoon knows what the morning never suspected." Mona Rodriguez says it's exactly what she needed to hear.
"This is really helping me," explains Rodriguez, Young at Heart Coordinator. "I'm dealing with a grandson that's living with me now. I'm understanding we should not try to force our young ones to think as we do. Let them learn, support them, maybe give a little hint."
Fr. Andel's advice comes from research and his own priestly experiences, he says. Another one of his suggestions, find purpose during your golden years. That caught the ear of retired utility company employee Steve Schultz.
"You've gone through your work phase and you kind of forget you have lots of other talents," says Schultz. "It's time to use them to help other people and help yourself feel better."
Uplifting seniors is precisely why Fr. Andel created this presentation. He debuted it earlier this year at Our Lady of Hope Church in San Bernardino.
"There's something that they (seniors) have to give," asserts Fr. Andel. "They're real human beings with the same hopes and dreams for the end of life that you and I have at a younger age."
And when the end of life is inevitable, that's when the concept of death as a friend comes in. Fr. Andel offered that when our earthly life ends there is no more pain, no more sickness, no more worries. He went on to say that we can join loved ones in heaven and gain more clarity on faith.
"I think you become closer to God," says Melanie Joyce, parishioner. "Maybe it goes back to when you're a baby and you're in your mother's arms. As you get closer to death you realize you're going to be in God's arms."
The Senior Day of Reflection was not all serious, though. Talk of moving slow in a fast world and sagging body parts got lots of laughs from the audience.
"We have to accept our aging, our white hair, our wrinkles," chuckles Margo Isenberg, Coordinator Of Pastoral Care. "We have to embrace it, not fight it."
For Marion Shymanski, that adaptation is the key to living well.
"I know we have a new normal. We're on a different journey right now and it's okay."
---
Natalie Romano is a freelance writer and a parishioner of The Holy Name of Jesus in Redlands.