Every teacher knows how rewarding it is to combine the goals and standards from several subjects into one assignment.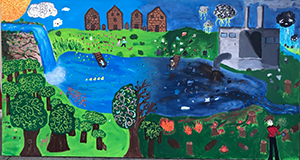 The seventh and eighth grade classes at St. Thomas the Apostle School in Riverside did just that when they entered the Wyland Foundation Mural Contest.
 In the month of November students in the two classes used elements art, science, planning/engineering, and math to create murals based on the theme of "Ecology and Water Conservation." Throw in a lot of collaboration, creativity, and fun, and you have the results: two beautiful murals that have been entered into the Foundation's nationwide contest.