Students Emma Kelley and Madeleine Scott, Student Council Commissioners of Ecology, wanted to build a butterfly garden after learning that the monarch population was starting to decrease due to housing developments, strip malls and the use of pesticides. They decided they wanted to help Sacred Heart become a part of a bigger service to help the butterflies.
 The school reached out to Sunnyland Garden to meet with Michaeleen Gallagher, Director of Education and Environmental Programs. She runs a program which helps conserve and protect the monarch population and monitors their migration. She was instrumental in mapping out the garden area. Mrs. Marci Torgerson, kindergarten teacher, and Kelley attended a three-hour seminar on butterflies, their migration, plants and shelters at Sunnyland Garden Center. They learned that desert milkweed is the caterpillars' main food. They learned how to tag the butterflies in order to track their travel. By being in this program the school can help scientists find out more about numbers and flight patterns.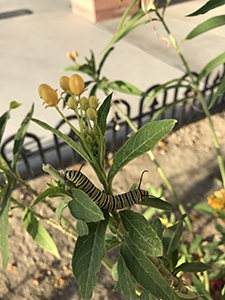 It was difficult at first to find the necessary plants. Vintage Landscape was helpful in providing the necessary irrigation we needed for the garden. They also donated materials, time and plants for the new garden. 
 The new butterfly garden at Sacred Heart includes 12 milkweed plants, a tree, a raised flower bed, a bubbling water supply feature, a bench, hummingbird feeders, wind chimes and a small fence around the edges. It is a peaceful, lovely environment the children enjoy using to look for caterpillars, butterflies and ladybugs, or sitting with friends, working in the garden, weeding and watering. 
 The garden was dedicated to Riley Rose, a former student who passed away from cancer. During a butterfly release, before the butterfly garden was built, Riley got to hold a butterfly, then it flew up and touched her on the cheek. Just like it kissed her! It is a lovely tribute to her life.
 Amazingly, in a very short time the Sacred Heart butterfly garden was filled with monarch caterpillars and their chrysalises. Students were lucky enough to witness several butterflies emerging from their chrysalis. There were at least nine monarch butterflies that hatched and perhaps more. The school feels blessed to be a part of taking care of God's creation and helping the monarch butterfly increase its population.