were called home to God in January after months of declining health.
 A native of Ireland, Msgr. Ryan ministered as a priest for 68 years, mostly in the dioceses of San Diego and San Bernardino, before passing away at 93 years old on January 22. Fr. Guillen was a native son of the Diocese, growing up in Chino and attending school there before being ordained a priest for the Diocese of San Diego in 1957. He passed away on January 15.
 Fr. Guillen's ministry was marked by a focus on social justice and civic engagement. He worked along side Cesar Chavez in advocating for the rights of farmworkers in California. Later he founded Libreria Del Pueblo, a non-profit organization committed to supporting Hispanic communities with immigration services, English language learning and citizenship classes. 
 "He joined faith and action, political life," says Petra Alexander, Director of Hispanic Affairs for the Diocese.
 At a recent meeting of the Inland Coalition for Immigrant Justice, Fr. Guillen offered the opening prayer. When Alexander later approached Fr. Guillen to thank him for "asking" for justice for immigrants, she said he responded with a correction that summed up his approach to social justice ministry. "You don't ask for justice for immigrants, you demand it," Alexander recalls Fr. Guillen saying forcefully to her.
 Msgr. Ryan will be remembered for a more gentile demeanor, and a special care he showed for the sick and dying. During his years of active ministry, one of his assignments was as a chaplain at Loma Linda University Medical Center. In retirement he delighted in going to local convalescent homes to celebrate Mass and hear Confessions. As his health declined, Msgr. Ryan welcomed friends and former parishioners to his Redlands home where he was receiving care in a spirit of deep gratitude, wrote Bishop Gerald Barnes in a letter announcing Msgr. Ryan's death.
 "To those of us who visited him in his last stay in the hospital, and at his residence, though unable to speak, there was a smile of awareness of our presence," Bishop Barnes wrote.
 During his ministry in the Diocese Msgr. Ryan served as Pastor at Blessed Sacrament, 29 Palms; St. James, Perris; St. Joan of Arc, Victorville; St. Francis Xavier Cabrini, Crestline and St. Adelaide, Highland. He was incardinated at a priest for the Diocese of San Bernardino shortly after it was established in 1978. He also took on leadership roles among the diocesan presbyterate, serving as Vicar Forane for the San Bernardino Vicariate from 1987-91, and on the Diocesan Presbyteral Council (1989-91) and College of Consultors (1988-91). In 2004, he was honored and named Chaplain to his Holiness St. John Paull II with the title Monsignor.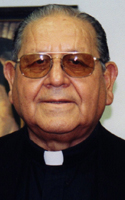 Fr. Guillen was also involved in diocesan ministry, serving as the Director of the Hispanic Evangelization Office from 1981-86. During that time, he played a key role in the establishment of a school of ministry for lay formation and leadership for the Hispanic community. He was also involved in parish ministry, serving as Pastor of Our Lady of Guadalupe Shrine, Riverside; Our Lady of Guadalupe, Ontario; and St. Edward, Corona.
 Dr. Enrique Murillo, a professor of education at Cal State San Bernardino, worked with Fr. Guillen in promoting education among the Hispanic community through his annual Latino Education and Advocacy Days (L.E.A.D) event. In 2016, Fr. Guillen was named  Padrino de Honor for the Summit.
 "We have lost a dear friend, prophet, and valued pillar of our community," Dr. Murillo wrote in a statement.
  Bishop Barnes celebrated both the Mass of Resurrection for Fr. Guillen at Queen of Angels Church in Riverside on Jan. 28, and the Mass of Resurrection for Fr. Ryan at St. Adelaide Church in Highland on Jan. 30.