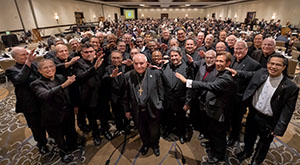 His priests serenaded him.
 His former Vicar General characterized his arrival to the Diocese of San Bernardino 25 years ago in terms of the Book of Genesis.
 His classmate from the seminary joked about him using his mother's maiden name to burgeon his Hispanic credentials when they ministered together in the barrios of San Antonio, Texas.
 His predecessor recalled seeing his name, "Father Gerry Barnes," on a list of potential new bishops in the West.
 It was all part of a humorous and heartening program at a March 17 Gala held at the Doubletree Hotel in Ontario to celebrate Bishop Gerald Barnes' 25th Episcopal Anniversary. He was joined by over 40 members of his family, 11 brother bishops, scores of priests, deacons and religious sisters, and many current and former diocesan ministers. About 470 people attended the dinner.
 The evening focused on Bishop Barnes' Episcopal Motto, Amar Es Entregarse, and featured presentations representing the past, present and future of the Diocese. Bishop Emeritus Phillip Straling, the founding Bishop of San Bernardino, spoke about the events surrounding Bishop Barnes' arrival as the first Auxiliary Bishop of the Diocese, and then his appointment by St. John Paul II as Ordinary in 1995.
 "Fortunately the Holy See looked around and saw a good bishop already here," Bishop Straling said during his remarks. "And they said let's appoint Gerry Barnes."
 Father David Garcia, a classmate of Bishop Barnes in the seminary, humorously described their early days of ministry together and then how "Monsignor Barnes" pastoral gifts eventually set him on the path back to California as an Auxiliary Bishop.
 "Every ministry that he did in the Archdiocese of San Antonio was done the best that you could ever imagine," Fr. Garcia recalled, "because he was inclusive, because he was empowering of others, because he energized others, because he believed in others…
 "When he left we were happy for him but sad for us, because you got a terrific guy."
 The Diocesan Presbyteral Council, a group of 22 priests that is a primary advisory body to Bishop Barnes, paid him tribute with a song, "Jubilate Deo," written by one of its members, Father Gene Sabio, M.S.C. The priests' rousing serenade of the Bishop drew the evening's loudest applause.
 The singing continued when a youth choir from Our Lady of Soledad Parish in Coachella performed the songs "Amigo" and "Amar" in honor of Bishop Barnes.
 Later during the Gala program, Diocesan attorney and benefactor Bill Lemann announced the creation of three new endowments in honor of Bishop Barnes' 25th Episcopal Anniversary. The George Ruben Barnes and Aurora Celaya Barnes Seminary Scholarship Endowment Program, named in honor of Bishop Barnes' parents and established with a generous contribution from Lemann and his wife, Janice; The Bishop Gerald Barnes Burse for Charitable Works, established with a generous donation from Dr. Vellore and Grace Muraligopal; and the Honoring our Past, Investing in our Future Endowment to benefit the construction of a Newman Center at California State University, San Bernardino, established with a generous donation from Mary Ganje in memory of her late husband, Tony.
 Community members who wish to contribute to any of these three funds may contact the Diocesan Office of Mission Advancement at (909) 475-5460.
 At the close of the Gala, Berenice Villa, a young adult, offered a perspective on the future of the Diocese and what Bishop Barnes' leadership means to youth and young adult Catholics. She recalled a moment she shared with Bishop Barnes at a conference when he simply asked her for her view of the days' events.
 "I had not been asked in my parish what my thoughts as a youth were until Bishop Barnes asked that day," Villa recalled. "I was 20 years old and I felt that my concerns were heard."