By Auxiliary Bishop Emeritus Rutilio del Riego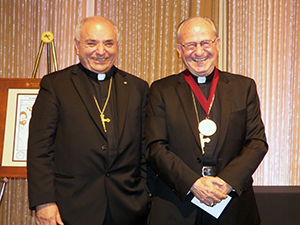 In my homily at the Diocesan Mass for the 25th Anniversary of Episcopal Ordination of Bishop Gerald R. Barnes I expressed how I have seen him exercise his ministry, trying to be faithful to his calling from God and the motto he chose for his coat of arms, "Amar es Entregarse."
 As his Auxiliary Bishop for over ten years, I have seen Bishop Barnes from a close perspective.
 I have seen Bishop Barnes exercising his episcopal ministry as providing a service to all the faithful of the Diocese and to all members of society. The basin and the towel on his coat of arms express this quite well.
 Bishop Barnes has always looked beyond whatever was accomplished. Complacency is not one his faults neither in relationship to himself nor in relationship to others. I often remember how, after an event that seemed to me well attended and in my view, successful, he would point out that some people, who were expected to be there, were missing. 
 His desire for accountability in the Church at all levels and by all people, be they priests, deacons or lay parish leaders is something I have seen first hand. This principle of accountability he applied to every aspect of ministry in the life of the Church and to every leader in ministry, whether ordained or lay.
 One thing that has been noticed and recognized is Bishop Barnes' desire and effective support for continuing formation of all ministers in the Church, from parish staff to priests and deacons. I would mention here his constant encouragement and support for the Ministry Formation Institute for the formation of lay leaders and deacons and their wives.
 Bishop Barnes has been always open to new ideas, new approaches and new methods in evangelization, faith formation and service to the people. He practices the core values of the Diocese in his personal life and in his episcopal ministry.
 I have also witnessed Bishop Barnes' commitment to consultation and dialogue. 
 Personally I have experienced his willingness to share his episcopal ministry with me in many ways. Among them were the Parish Episcopal Visitations, the supervision of some diocesan offices and departments, sharing his ministry as Episcopal Vicar for the Riverside Metropolitan area, working with the special core group to prepare and present the Building Intercultural Competencies for Ministers (BICM) program, special parish and diocesan events, Confirmations and my participation in most of the Diocesan consultative bodies.
 In my personal relationship with Bishop Barnes, he has accepted me as a brother in the episcopacy and as a friend. He has encouraged me always to give the best of myself to the entrusted tasks and to the people we are called to serve. I believe he has valued my suggestions and, when asked, my advice. For this and for all the support I received from him I am very grateful.
 Bishop Barnes has asked all the ministers in the Diocesan Church to give our best in service to the people, and this, to use the words of the Diocesan Vision, "so that people's lives are filled with hope."