By Malie Hudson

 At the Bishop's Dinner on April 7, Bishop Gerald Barnes will recognize six individuals and one ministry with the Amar Es Entregarse Award, given to those who embody his episcopal motto, "Love is the total giving of one self." 

 This is the second in a two-part series that profiles the extraordinary work by these individuals and groups. 
Peter Bradley
Archivist of the Diocese of San Bernardino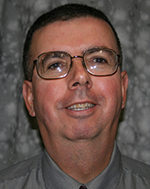 Peter Bradley grew up in New Jersey helping his aunt with chores in his local parish rectory. 
 "That gave me a very unique experience of the Catholic Church from the inside that the average parishioner wouldn't have," said Bradley.  "So it was one opportunity that led me into church ministry."
 He went to college in Baltimore and completed his graduate studies in Religious Education at Catholic University of America in Washington D.C. He remained in the area and worked as a parish youth minister in the Archdiocese of Washington D.C. and later became Parish Director of Religious Education in the Diocese of Arlington in Virginia. An open spot in the youth ministry department in the Diocese of San Diego brought him to California. When the Diocese of San Bernardino was created in 1978 his job became a part of the new Diocese. 
 Since 1979, he has served in youth ministry, parish services and also as Director of the Straling Leadership Institute (now the Ministry Formation Institute), Director of Catechetical and Theological Formation and Director for the Department of Pastoral Services. He currently serves as Diocesan Archivist, managing all the historical information on the life of the Diocese and also overseeing the processing of requests for research into the past such as sacramental records, history and genealogy. 
Belinda Marquez
Riverside County Director of Family & Community Services for Catholic Charities San Bernardino & Riverside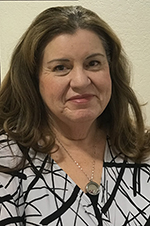 Belinda Marquez began her career with Catholic Charities in Los Angeles in 1979 as a group worker. She worked with teens, tiny tots and senior citizens at a community center where she was eventually promoted to director. In 1997, she became the Riverside County Director of Family & Community Services for Catholic Charities San Bernardino & Riverside. 
 She is in charge of overseeing programs and services in the Riverside, Moreno Valley, Indio and Palm Desert areas. The services they offer include everything except counseling and immigration, which are covered by other departments within Catholic Charities. Her department offers people in need with basic necessities such as personal care or groceries, and help with difficult hardships such as rent, on a case by case basis.  
"We get maybe 150 calls per day for services. It's constantly busy. I think that's what makes Catholic Charities stand alone is that we do case management," said Marquez. "We don't just pay a bill for them and let them go, we actually sit with them and budget and talk with them and make sure that they're going to be okay for the next month and then we do a 30, 60 and 90 day follow up." 
 One of the biggest challenges of her job is finding the funding to keep programs running. After nearly 40 years, she has always managed to find a way. 
 "The energy that I get from people keeps me going," Marquez says. "I feed on energy from the community and they inspire me because I'm thinking about the struggle they have to go through just to survive. I feel like this was the calling since back in 1979, from day one." 
The Diocesan Office of Child & Youth Protection
 Under the direction of Sister Cathy White, SP, the Diocesan Office of Child & Youth Protection was created to help victims of abuse and abuse-related violence, their families and anyone affected by abuse from clergy, religious, staff and volunteers. The office partners with parishes, and state and secular agencies to enforce the Diocese's zero tolerance commitment, and to provide a safe environment for children. 
 The office also monitors background checks, a requirement for clergy, staff and volunteers working with children. Thousands of individuals have gone through fingerprint and criminal background checks. Sr. Cathy and her staff are responsible for reporting the screening and training work of the Office to the United States Conference of Catholic Bishops to ensure that the Diocese remains in compliance with the national Charter for the Protection of Children and Young People. 
 The Office has also helped to nurture positive relationships by providing training to staff and volunteers at parishes and Catholic schools who work with children on a regular basis. 
 For those who have suffered abuse, the Office of Child & Youth Protection also offers "Restoring Me" retreats that offer victims an opportunity to voice the pain of their experience and thus begin the process of healing.
---
 Malie Hudson is a freelance writer based in Riverside.