By Malie Hudson

 On August 25, Bishop Barnes will ordain 11 men to the Permanent Diaconate. Before taking the final step in their journey to Ordination, the men reflect on their calling and the important role their wives played in the process. 
Eduardo Baltodano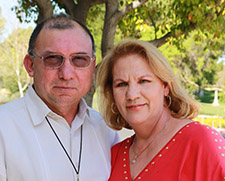 Background
   Wife: Maria Baltodano.
   Home parish: St. Catherine of Alexandria, Temecula.
   Occupation: Retired from the baking business. 
 Ministries of Interest: RCIA, visiting the sick and catechism. 
 Reflections on Diaconate and wife's role: "I was listening one day to a speaker talk about the special needs ministry and present were some with special needs. Listening to them talk about how Christ has been in their lives and how under the eyes of God we all are equal, I said to myself, 'here I am complaining for every little thing extra that I was asked to do,' and I remember crying. I said to the Lord, 'whatever you want me to be or do I will,' and here I am [about to be] ordained as deacon. My wife has been very supportive of my call. Without her support it would not be possible. We will continue working together, supporting each other in any way necessary but more importantly with love of each other and the love of God." 
---
Bernardo Esparza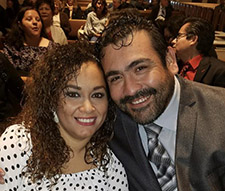 Background
   Wife: Sonia Esparza.
   Home parish: St. George, Ontario.
   Occupation: General Contractor. 
 Ministries of Interest: Social justice, marriage, youth. 
 Reflections on Diaconate and wife's role: "I recall a friend of mine who was a seminarian mentioned to me diaconate formation and at the time I responded that I did not believe that it was for me because I saw so many others that accompanied me in church with much more formation than me. I thought if they weren't deacons with their formation how can I, with much less, even imagine to aspire to become one? I kept resisting the call until a preacher that I was listening to said that there were many people that tell the Lord that they want to follow Him and serve Him but when He asks you to follow Him He will make ready the path so you can be in service to Him … and how does one respond to Him? 'No Lord, I cannot do that'…I realized that what the preacher was talking about was happening to me. The Lord prepared my path … the whole community supported me … and motivated me to start that formation. By the grace of God each new priest and deacon that has come into my life has supported me to keep moving forward. My wife was and still is a fundamental part in this process. My way of seeing the calling to become a deacon is that it is not just the call to the man but also to the woman that God put as his partner.. I know that without the help of God or the woman that God put in my life as my partner I wouldn't have been able to make it to this level of my life."
---
Toan Viet Vu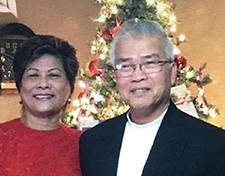 Background
   Wife: Ngoan Bui Vu.
   Home parish: St. George, Ontario.
   Occupation: Retired Senior Electrical Designer. 
 Ministries of Interest: Nursing home and hospital ministry. 
 Reflections on Diaconate and wife's role: "Since I left the Congregation of the Mother Coredemptrix (CMC) in 1970, I have always thought about finding other ways to help serve the Church and help with charities. I especially want to help those less fortunate. During my ministry experiences, I received many blessings from God. God has affected my life in many ways. When I help the needy, the feeling in my heart is indescribable. I want to give back to the community and show God how appreciative I am with everything He has blessed me with, such as being blessed with a great family and the wonderful opportunities that have led me to want to pay it forward. To me, this is a good way to serve God and to be a witness in a special way to the world to promote justice and support charity activities to the people who don't know the love of God. My wife has been my support through this entire journey with me. Without her, it would have been even more difficult to go through this process. She has been my rock and has kept me mentally strong throughout this whole endeavor. To be an ordained minister in the Church, a husband and wife must work together and support one another. One of our marriage covenant commitments is "always pray together and create a calendar ministry list, have conversations and be together on any decision making." The two people who are truly best for each other are the ones who face every challenge together. My best partner in life is my wife."
---
Jerry Lugo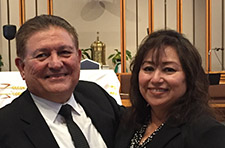 Background
   Wife: Isabel Lugo.
   Home parish: Our Lady of Perpetual Help, Indio.
   Occupation: Licensed California General Building Contractor. 
 Reflections on Diaconate and wife's role: "The call to the Diaconate became an inner stirring I began to sense and on completion of my CMFP studies, coupled with the urgings to seek the Diaconate by our then Parish Priest (Miguel Corona) and Pastoral Coordinator (Laura Lopez). My wife and I accepted the invitation of God's calling and after much prayer, discernment and counsel with family, we agreed to seek the Diaconate formational and educational studies together. My wife of 45 years has been a pivotal anchor, partner and source of strength through life's joys and trials. We were taught in the diaconate study to live and see our lives in parish service within the following order: God, family, work and Church. I trust my wife will always support and help guide me where ever the Holy Spirit leads us."
---
Jesus Mercado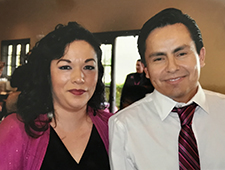 Backgournd
   Wife: Blanca Mercado.
   Home parish: St. Francis of Assisi, La Quinta.
   Occupation: St. Francis of Assisi Parish Liturgy Coordinator. 
 Ministries of Interest: Liturgy and Pastoral Care of the Sick and Homebound.
 Reflections on Diaconate and wife's role: "One Monday morning back in 2009, I woke up feeling a great need to go to Mass. Since that time, I have been attending Mass almost daily. Saying 'yes' to that intrinsic motivation has brought me to where I am now - serving my Diocese, my community and leading me to Diaconate ordination. I feel the guidance of the Holy Spirit and I pray that, as I serve in ministry, He will enable me by His strength and lead me by His wisdom to nurture the call to ministry and that in some small way I may, by God's grace, help fan into flame that spark that God has planted in me by calling me into His service. For me to be where I am in my life, my wife had to accept her call first. Being my support, as God designed it, she first had to understand His divine calling for her life. She realized that she was created with the purpose of being the help and support of the husband. Moses declared, "The Lord God said: It is not good for the man to be alone. I will make a helper suited to him." (Génesis 2:18). My wife is a virtuous woman with excellent moral character and I know that she will take a suitable role for both of us. Solomon instructed: "A diligent woman is a crown to her husband." (Proverbs 12).
---
Luc Morisset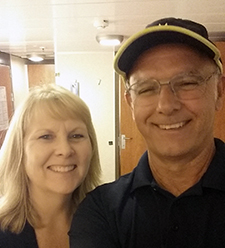 Background
   Wife: Christine Morisset.
   Home parish: St. Joseph, Upland.
   Occupation: General Contractor. 
 Ministries of Interest: Baptism and marriage. 
 Reflections on the Diaconate and wife's role: "My calling to the Diaconate has taken place over a long period of time...I have always been called to serve in different ways in the church community…back in 1998 our pastor at the time asked me to consider the Diaconate, as well as several pastors since then. Unfortunately family and work responsibilities made it difficult…but over the years I was asked several more times, and the calling has always been in my heart. I love Jesus and desire to bring people to a closer relationship with our Lord.
I am still growing in the spirit myself and enjoy the process. I can think of no better way to bring the Lord into the lives of people than to be the example we are all called to be. To be ordained to serve the Lord through our community of Catholics is a blessing and honor I would cherish in my heart always. Christine has been my spiritual partner and best friend since we met and continues to be proof of God's grace in my life. We have served in marriage ministry together for many years and together make a great team. Christine's insight and strength in faith and life, in general, has been a great help to me, as she often sees things in a different context than I do and we are able to share together and grow from each other's insights. Her role will continue to be my prayer partner, my confidant, and my best friend and hopefully will be my partner in ministry whenever possible."
---
Ernesto Ocampo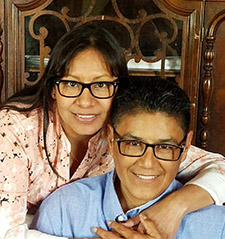 Background
   Wife: Evelia Ocampo.
   Home parish: St. Christopher, Moreno Valley.
   Occupation: Furniture Appliance Distribution. 
 Ministries of Interest: Hospital ministry. 
 Reflections on the Diaconate and wife's role: "I thank God for the calling He makes to us and for Him to put His vision in us, who has inspired our soul. My call to this ministry was through very ordinary signs. Spiritual docility, which allowed me to approach Jesus Christ, through prayer, the Sacraments and especially the Holy Eucharist. Another sign was the generosity I felt, the desire to belong to the ministry of proclaimers of the Word, and to look for charitable activities. I felt full. For me, vocation is a gift, but also a mystery because it is something that I do not achieve with human effort, but it is God who gave it to me. And I say mystery because I ask myself, 'why me?' If I look at other smarter, brighter and more active people. Many times the vocation is not understood, the only thing I have said to the Lord is, "yes, I am here." Walking on this journey of formation, it has been a wonderful process where the Lord in his word has taught me the importance of serving and being humble in his work, to know the purpose that God has for me as Deacon. I ask for your prayers so that now in this new vocation of the Diaconate and without any interest other than serving, I put myself in the hands of God to guide me, enlighten me and make me a faithful servant in the Lord's vineyard." 
---
Isaias Palma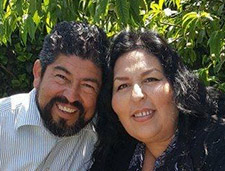 Background
   Wife: Diana Palma.
   Home parish: St. Anthony, Upland.
   Occupation: Small Business Owner
 Ministries of Interest: Marriage and vocations. 
 Reflections on the Diaconate and wife's role: "At the age of 33 I heard within me the call to the Permanent Diaconate. Three things prevented the beginning of the process: my age, my children were very young, and the most important thing is that my wife did not accept. Over the years, we came to St. Anthony parish in Upland and one day the Pastoral Coordinator of the parish at the time (Deacon Steve Serembe) invited my wife and I to be a part of the Permanent Diaconate program in the Diocese of San Bernardino. At this time my wife answered 'yes' and we have been in this process with certain difficulties and trials but with the desire to serve the people of God. Without the support of my wife, this process of Permanent Diaconate cannot be realized. My wife had begun to exercise in her ministry before me. She has a Master in Catechesis and works at St. Patrick Parish in Moreno Valley. She is also the Spanish Renewal Retreat coordinator at our parish."
---
Jaime Rosas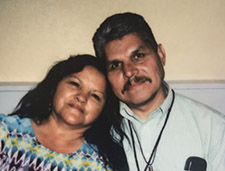 Background
   Wife: Emilia P. Rosas.
   Home parish: St. Louis, Cathedral City.
   Occupation: Maintenance Groundskeeper
 Ministries of Interest: Marriage, social justice and caring for the sick. 
 Reflections on the Diaconate and wife's role: "A call to service as well as a change in lifestyle never comes to one without trials. Perseverance and trust in God is what finally led me to God's will. The role my wife had during this time of diaconate formation demonstrated her great love, patience and unconditional support. Lord willing, I am sure that when I am ordained as deacon, my wife's support and help will be one of the greatest blessings as it has always been."
---
Roberto Villatoro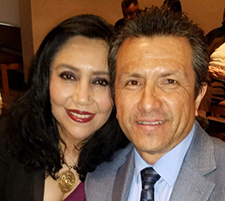 Background
   Wife: Veronica Villatoro.
   Home parish: St. Anthony, Upland.
   Occupation: Maintenance of apartments. 
 Ministries of Interest: Social Justice, homeless, immigrants, incarcerated, elders. 
 Reflections to the Diaconate and wife's role: "There was a moment in my life about ten years ago that I thought I had lost everything. I kept asking God, 'why?' I was upset with Him. We'd worked so hard for about 20 years and in a moment we lost it. One afternoon as I was still complaining about what was going on, my kids and wife, one by one walked into the house, within five to ten minutes of each other. As I saw them I started to cry. I understood His message: 'Yes, you lost everything, but you lost only material things, the ones you can buy and have again, but there's one thing that you can't buy, it doesn't have a price: Love. And that is what you'll have for the rest of your life with your family, through them I am showing you my love; a love that is pure and expects nothing in return, it is all for you. Do you feel it?' I felt ashamed and asked for His forgiveness for the things I said and thought. I realized how loving, merciful and forgiving He's been with me and I said: 'Here I am Lord, I do not have anything to give you other than my life, is yours. Take it, I want to serve you in any way you want me to, just show me the way and I will follow you.' Since that day everything has been like it was planned: I got involved in Church, PMFP and CMFP classes and finally diaconate formation. My wife has been my support, my adviser, my companion, my everything, in this journey. Without her there is no way I would be where I am today."
---
Edwin Estrella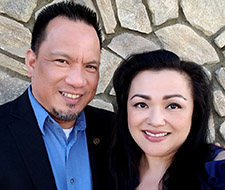 Background
   Wife: Kathleen Estrella.
   Home parish: Our Lady of the Assumption, San Bernardino.
   Occupation: Software engineer. 
 Ministries of Interest: Men's Ministry. 
 Reflections on the Diaconate and wife's role: "In 1998 we were at St. Catherine in Rialto where I met Deacon Edwin Chamberlayne who recently passed away. He was the first to approach me about becoming deacon. At that moment I was just getting back into the church and I wasn't ready. I was involved in youth ministry and hospitality ministry and then transferred to Our Lady of the Assumption Parish in 2005. In 2012, I attended the ordination of Deacon Mark Weber where I met Perline Chamberlayne, Deacon Edwin's wife. While talking to her, Bishop [Rutilio] del Riego passed by. She pulled him aside and said she wanted to introduce me to him as her new project to become a deacon. In that moment, I felt a peace and I started crying. My sister was there, as well as my wife, we all just cried. That was another calling from God toward the Diaconate. And then in 2014, our pastor at the time asked to meet with me. He discussed if I ever thought about being a deacon. In the past others have approached us to enter the Diaconate Program. My answer would be 'no' and Kathleen would be 'yes.' There are times when I would be 'yes' and Kathleen would be 'no.' But at that time we both said 'yes.' It's all in God's hands, all in his time. In the journey, as a married couple, we are partners, side by side. My wife has been a major source of encouragement and love throughout the process. It has been a challenging, demanding but a fruitful and wonderful process for us. Our marriage has blossomed from the journey."