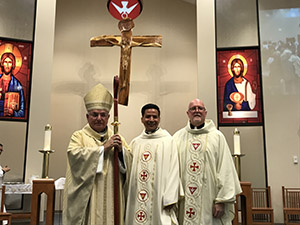 St. Joseph Monastery in the remote Lucerne Valley of the High Desert was packed on January 11 for the ordination of Father Peter Binh Quynh Dang Pham and Father Stephen Hoa Van Nguyen.  Both were ordained to the Order of Cistercians.
 The following Saturday, on January 18, Bishop Barnes ordained Father Ramón Flores at Our Lady of Soledad Church in Coachella. Fr. Flores will serve as a priest for the Missionary Servants of the Most Holy Trinity, the religious community that has been entrusted to administrate Our Lady of Soledad parish.
 It is not common for Bishop Barnes to ordain religious priests but he has done so before, including his very first Ordination as a bishop. Canon law allows that a religious priest can be ordained either by a bishop of his order or by the Ordinary Bishop in the diocese where the ordination takes place. In this type ordination rite the priest who is being ordained promises obedience to his diocesan bishop and to his legitimate religious superior.
 "What makes the difference is the presence of many religious confreres at the Mass and if the order has staffs at a parish in the diocese it does make it special for the people of the parish," says Bishop Barnes.  "They come to see many of the religious that have served them through the years."
 The three new priests will be under the jurisdiction of their religious community and will not be in diocesan or parish ministry. Fr. Flores will begin his ministry as a priest with an assignment in Alabama while Fr. Pham and Fr. Nguyen will serve as monks at St. Joseph Monastery.
 Cold winter winds whipped through the Lucerne Valley on January 11 but that did not prevent a strong presence of the Vietnamese Catholic community from celebrating the ordination of Fr. Pham and Fr. Nguyen with joy and enthusiasm. In his homily, Bishop Barnes urged the people to continue to pray for vocations. St. Joseph Monastery now has seven priests in ministry. The monks devote themselves to a ministry of prayer, study and the giving of retreats at the Monastery.