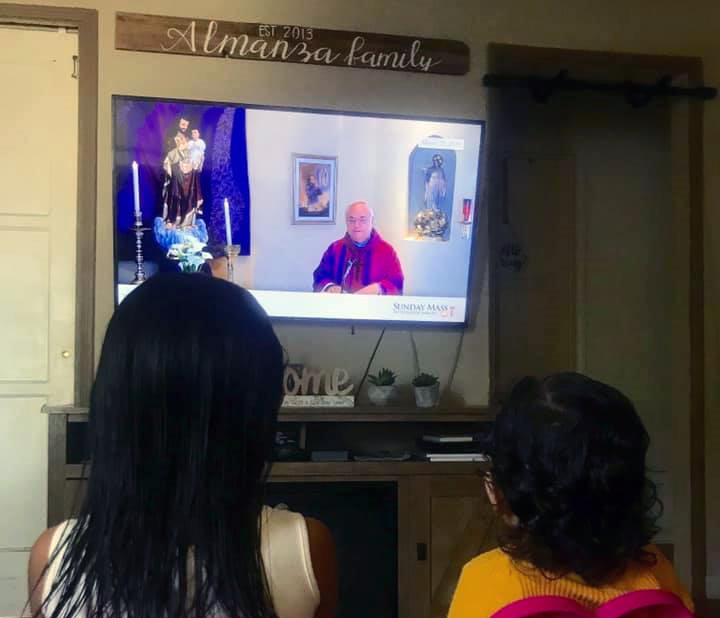 The words of Bishop Gerald Barnes just before he began the celebration of his first livestreamed Sunday Mass on March 22 capture a chief task of the Diocese and its parishes in the wake of the series of government restrictions instituted to slow the spread of COVID-19.
The use of digital media to keep faith communities connected has become critical. As soon as Bishop Barnes announced on March 17 the suspension of all public Masses in the Diocese and a series of other restrictions on public providing of Sacraments, parishes were urged to begin communicating with their community, digitally. It was essential to provide reassurance and information on how the parishes continue to provide service and resources. The response of many parish communities has been swift and substantial.
The largest concern for most has been the suspension of public Masses, where the community gathers each week in the greatest number, shares in the celebration of the Eucharist and offers financial support to the parish. To maintain this connection digitally, a majority of parishes in the diocese are now livestreaming Mass, both daily and on Sundays. As of this writing 50 parishes are using smart phones, tablets or video cameras to capture their liturgies and then stream them through social media platforms Facebook or YouTube. In addition to parish livestream Masses, many priests have invited the public to post on social media prayer intentions for the private Masses that the priests continue to celebrate daily.
The Diocese is livestreaming daily Mass from St. Junipero Serra House of Formation with the priests who are in residence there. On Sundays, livestream Mass with Bishop Barnes is offered at 11 am and livestream Mass in Spanish with Coadjutor Bishop Alberto Rojas is offered at 9 am. Seminarians living at Serra House have fulfilled roles as lectors and cantors in the Mass.
Because of public gathering restrictions, the Diocese issued guidelines reminding parishes to limit the presence of others when livestreaming Mass. No members of the public may attend; only a technician to assist with livestreaming, one other person to assist with readings or to serve as a cantor, and someone to provide American Sign Language interpretation.
For some priests, the dynamic of celebrating Mass in an empty church or chapel was jarring.
"I celebrated Mass this morning feeling a little strange because… I was the only one here," reported Father Gino Galley, Priest Minister at The Holy Name of Jesus and ordained just last year, in a March 19 video message. "You, my fellow Catholics and parishioners, were absent."
Some parishes have also used more traditional forms of mass communication, mailing letters and postcards to parishioners, and blocking out a couple of hours each day to make phone calls directly to households to check in.
While livestreaming Mass was the first order of business for many parishes, most of those have gone further in their use of technology to stay in touch. Several pastors offered video messages to their flock at the outset of the shutdown to offer reassurance. Father Lou Abdoo, I.MC., Pastor of St. Francis de Sales parish in Riverside, used humor and stories from his boyhood days in Catholic school to connect. Father Eliseo Napiere, MSP, Pastor of St. James the Less Parish in Perris, offered words of encouragement.
"Just hold on," he said calmly. "I know how tough you are in facing different kinds of challenges in life."
Father Anthony Dao, pastor of St. Catherine of Alexandria in Temecula, said in a video message that the new dynamic made him "both nervous and excited." His video also offered specific instructions on how to access online resources for adult faith formation, religious education, social outreach and online giving – a kind of tutorial on how the parish is now operating.
"It has been my dream to reach out to people through mass media, to evangelize" Fr. Dao said. "I'm also nervous because this is a very different way to reach out to people in such a short period of time."
Father Gerald Vidad, pastor of St. Anthony parish in Upland, offered his people a musical message, posting a video of him singing "Bless the Lord, O My Soul." Deacon Eric Vilchis and his wife, Rosalie, did likewise, posting a performance of "Hold on to Love" on the Facebook page of Our Lady of Hope Parish in San Bernardino.
In keeping with Lenten traditions several parishes have facilitated virtual Stations of the Cross prayers on Fridays, providing worship aides and inviting families to record themselves praying the stations and post the video to the parish Facebook page. Other parishes have offered powerful prayers of the Church digitally including Rosaries, Holy Hour and Adoration.
The use of digital media during the pandemic has taken place at all levels of the Church. Pope Francis invited the world to pray the Our Father together on March 25. To support this Bishop Rojas offered a local recitation of the Our Father at 12 noon Pacific time.
"I offer this prayer with all of you who can join me from wherever you are," Bishop Rojas intoned, before beginning the Our Father.
Two days later, the faithful of the Diocese joined in the worldwide viewing of Pope Francis' Urbi et Orbi Blessing, streamed from the Vatican News website.
One advantage of the digital delivery of Masses and other liturgical events is that most remain viewable for a period of time after they have taken place. For the Episcopal Masses of Bishop Barnes and Bishop Rojas thousands of Catholics watch the livestream and in the days after the number of those watching increases exponentially. As of this writing, more than 11,000 people watched Bishop Barnes' March 22 Mass, and more than 7,800 had watched Bishop Rojas' March 22 Mass in Spanish.
Families gather around their computer screen or television monitor and try their best to open themselves to this new way of celebrating Mass. Feedback on diocesan social media has largely been of gratitude.
"My link is ready to go. I can't wait!" posted Dolores Vatier-Ahern.
"Thank you for all these livestream events so that we can still worship as a community and in union with our Bishops and the Holy Father," Dixie Diamond posted.
"I felt like I was in my parish," posted Mark Albert Lewis.
Social media has also served as a place for Catholics to express their pain and displeasure at being unable to receive the Sacraments as they ask Church leaders to reconsider decisions to suspend Mass and to once again make the Eucharist and Confession publicly available in this time of distress.
Bishop Barnes has remained clear in his remarks at both of his livestream Masses that he views the decision to suspend public gatherings as a being in concert with tenants of the Catholic faith.
"We value the lives of our brothers and sisters," he said in his March 29 homily. "Because we are people of life, we follow the directives."
In a video message posted March 21 on Our Lady of Hope's Facebook page, Father David Andel, Judicial Vicar of the Diocese and a priest in residence at Our Lady of Hope, spoke to the pain many are feeling with the suspension of public Mass and asked them to stay connected to their Church through technology.
"The Church has not abandoned you," he said. "We are with you in ways ever ancient and ever new."