The pastor of Corpus Christi Parish in Corona wanted to adorn the church with a gesture of welcoming to the predominantly Hispanic community of Home Gardens that lies just west of the parish on Magnolia Avenue, facing the rear exterior wall.  The Virgin of Guadalupe is a symbol of love and protection to those of Mexican descent and, increasingly, many other Catholics.
 "It looks toward the Home Gardens area but it is for all of us," says Father De Luney. "She's the Mother of the Americas."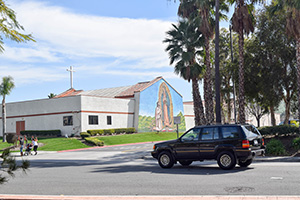 Since the towering mural was unveiled in early February, it has drawn media coverage and attracted visitors from all over the Diocese and other parts of Southern California. Parish staff members did an informal Internet search and concluded that it is the largest mural of Our Lady of Guadalupe in the United States.
 At the recommendation of a parishioner Raul Lopez, Fr. De Luney commissioned Mexican artist Antonio Martinez Guzman to paint the mural over the entire rear wall of the church. The art project cost about $7,000 for materials and the artist's fee and travel costs, and was paid from a monthly maintenance collection taken at the parish.
 Fr. De Luney notes that Corpus Christi has been a predominantly Hispanic parish since its founding in 1994. Spanish language Masses on the weekends often attract 1,700 people to the 1,000-seat church, he adds.
 It's no surprise, then, that the mural has struck a chord with many parishioners.
 "It makes us feel that she's present," said parishioner Maria Stahl, who also teaches religious education at Corpus Christi. "She brings the message of Jesus to us."
 Magdalena Avila stopped by the parish with her child one Thursday to light a candle before the smaller statue of Our Lady of Guadalupe in the parish courtyard.
 "It's beautiful. I love it," she said of the mural. "We believe in the Mother. We have faith."
 As for the curious onlookers who venture into the parish parking lot to get a better look at the mural, Parish Youth Minister/Confirmation Coordinator Molina Erb sees it as an opportunity for evangelization.
 "I tell them, 'the church is open.' "