Catholic communities from throughout the Diocese showed their strong Marian devotion in October with many special observances to mark the 100th Anniversary of the final apparition of Our Lady of Fatima. 
 Many gathered to pray the Rosary, either at their parish location or in a prominent public place. Some held processions, gave opportunities for Adoration of the Blessed Sacrament and offered the Sacrament of Reconciliation.  Places like the Duck Pond in Temecula, Yucaipa City Hall and Ontario Mills Mall became places of public witness to the nurturing power of the Blessed Mother.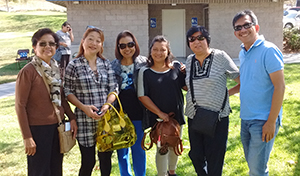 St. Mary Magdalene Parish in Corona offered a day-long observance of the anniversary on Oct. 13, including Confessions, Rosaries, a procession with an Our Lady of Fatima statue that was then crowned, Holy Mass and a potluck dinner. Those who participated in the day and fulfilled a series of other Sacramental and prayerful requirements were granted a Plenary Indulgence, a stipulation made earlier this year by Pope Francis.  
 Our Lady first appeared to three shepherd children in the Portuguese village of Fatima in May of 1917. She asked them to pray and devote themselves to the Holy Trinity and to "say the Rosary every day, to bring peace to the world and an end to the [First World War]."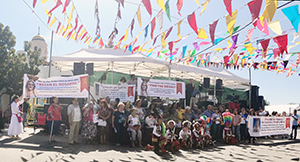 She appeared to the children six times over the next six months and on the day of her final appearance, October 13, 1917, 70,000 people turned out to witness it.  They saw the sun make three circles and move around the sky in an incredible zigzag movement in a manner which left no doubt in their minds about the veracity of the apparitions.  By 1930 the Bishop had approved of the apparitions and they have been approved by the Church as authentic.
 Our Lady of the Lake Parish in Lake Arrowhead, which has the Diocese's only shrine to Our Lady of Fatima, held a day of activities on Oct. 15 to commemorate the centennial anniversary. Monsignor Gerard Lopez, STL, Vicar General of the Diocese, celebrated Mass at the parish, followed by exposition of the Blessed Sacrament, and a Holy Living Rosary. Attendees then participated in an act of consecration to the Immaculate Heart of Mary, in which the head of each family came to the Altar for a blessing, received a candle and lit it from the Paschal Candle, and then processed outside to the Our Lady of Fatima Shrine to recite a family prayer.