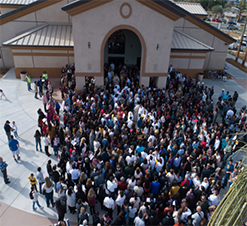 In another sense it marked the successful completion of a 16-year journey to build a badly-needed new worship space for one of the Diocese's largest faith communities.  Bishop Gerald Barnes dedicated the new church at a noontime Mass. This tradition includes the Bishop anointing the walls of the new church and its altar as well as blessing the baptismal font and the tabernacle. In the opening procession, liturgical vessels, books and statues from the old church were brought to the new church.
The new church seats 1,200 people, doubling the size of the old church, which had been built in 1971. The 19,000 square foot building includes an adoration chapel. It sits on 10 acres and is reportedly the biggest church in Coachella. Because of the growth of the parish and high Mass attendance, Father Guy Wilson, ST, Pastor, says the number of weekend Masses at the parish will remain the same. There are 8,442 registered families at Our Lady of Soledad.
"The Catholic population is growing," Fr. Wilson says. "Our people see the new church as central to our mission in Coachella. They emphasize that their Church has welcomed them and helped to ground them in their Catholic identity.  They want to ensure that this active faith is transmitted to the future generations and to all who will come to Coachella."
Father George Gonzalez, a retired priest of the diocese, was one of the concelebrants at the Dedication Mass. He has strong connections to Our Lady of Soledad parish, having been baptized there, the only vocation to the priesthood ever to emerge from the parish, and later serving there as pastor.
"I was back home again," Fr. Gonzalez said. "For me, [the dedication] climaxed the whole journey of the people of God coming into the Coachella Valley."