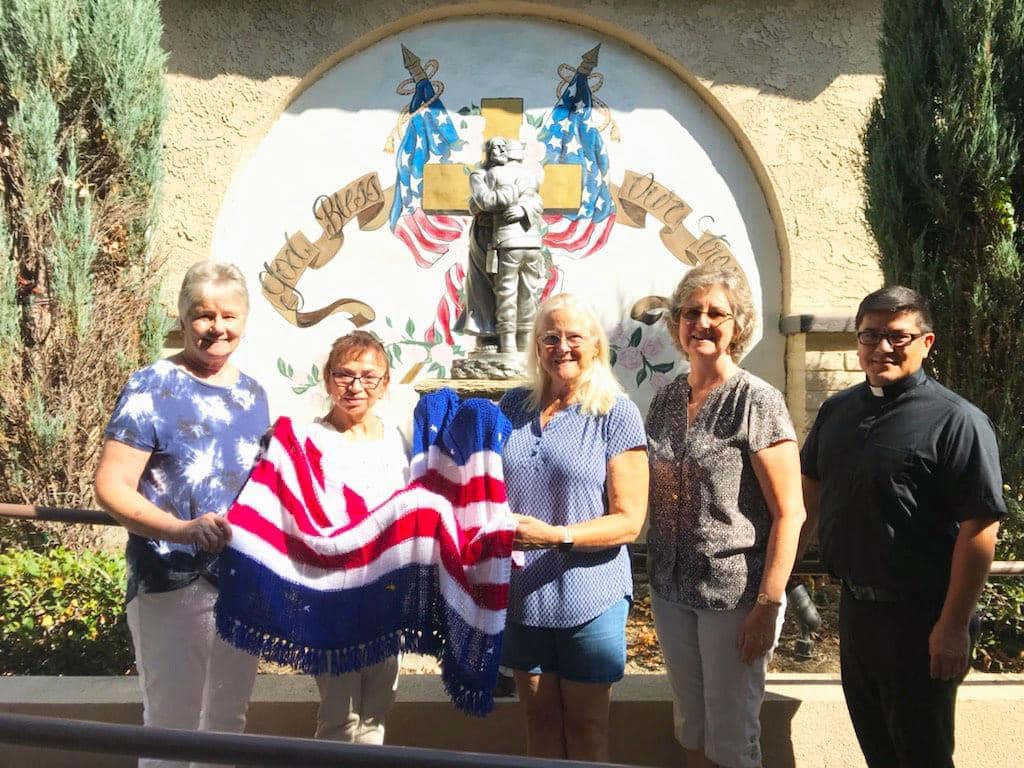 Members of the Prayer Shawl Ministry and Deacon Richard Ahumada pose with a homemade blanket that was donated to Cheryl Rex, the mother of fallen U.S. Marine Lance Cpl. Dylan Merola. From left to right, Martha Lucio, Elena Dennett, Cheryl Palmer, Mary Jo Kunkel and Deacon Richard Ahumada.
By Anneliese Esparza
Managing Editor
Parishioners from St. Peter & St. Paul in Alta Loma gifted a prayer blanket to the mother of U.S. Marine Lance Cpl. Dylan Merola of Rancho Cucamonga, who was one of the 13 U.S. service members killed in Afghanistan on Aug. 26.
The parishioners are members of the Prayer Shawl Ministry which gives homemade shawls and blankets to those who have lost a loved one or are suffering in some other way. The members meet weekly to make the items while praying for those who will receive them.
The Prayer Shawl Ministry was asked to make a gift for Merola's mother, Cheryl Rex, by Gloria Rivera, the church's Pastoral Care Coordinator. Rivera says that she decided to ask the Prayer Shawl Ministry about making a blanket for Rex after the parish had received several phone calls from young people around Merola's age. The young people had known Merola from when he attended youth ministry at St. Peter & St. Paul back in middle school.
The woman who has been leading the ministry for the last couple of years, Mary Jo Kunkel, said that she was "excited and honored to be able to be a part of something that might bring comfort and peace to Dylan's mother."
The blanket was made by one of the ministry's members, Elena Dennett. It is red, white and blue, and there are 13 stripes representing the 13 fallen heroes. There are also stars embroidered on the blanket, including a gold star (since World War I, the gold star has been a symbol for a family whose loved one was killed in service of their country).
The blanket was blessed by Deacon Richard Ahumada, then Kunkel had to figure out how to get the blanket to Rex. "I was able to find Dylan's mother, Cheryl, via Facebook. And I reached out to her to let her know that we were praying for her and her family and that we had a gift for her," said Kunkel. "She provided me her address and I was able to deliver the blanket to her."
The parish plans to honor Merola by adding his name to their Military Memorial Garden. Dedicated in 2012, the memorial features a statue of Jesus embracing a service member, an American flag and a mural with the words "God Bless Our Troops."