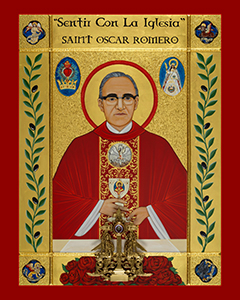 By Natalie Romano
EASTVALE—An Eastvale Catholic Church may not have a building yet but it does have a "window into heaven."
 This so-called window is actually sacred artwork depicting the church's namesake, St. Oscar Romero. The icon was revealed to parishioners on November 25th during a Mass celebrated by Bishop Gerald Barnes. In light of St. Oscar's recent canonization, the Bishop came to celebrate the renaming of the parish, which currently holds Mass at an Eastvale public school.
 That day, the icon's artist looked on as Bishop Barnes consecrated her work.
 "I think it's one of the most beautiful things to see; the blessing and the veneration," says Vivian Imbruglia. "I always feel somewhat emotional. My work is done."
 Imbruglia, a parishioner of St. Peter and St. Paul in Alta Loma, has painted about 125 icons during the course of her 13-year career. Her work can be seen in churches, monasteries, and private homes.