By Natalie Romano

 Homework, the SAT's, college applications; these are things you probably worried about in high school. 

  But today's teens grapple with a greater fear.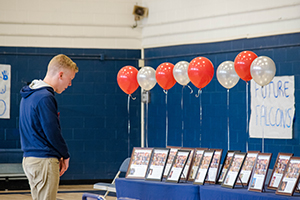 "I'd rather not die," says Hannah Bradvica, 18. "I think it's really hard to protect ourselves with so many school shootings."
 Those honest words echoed by high-schoolers from coast to coast during the March 14th National Student Walkout. At 10 a.m. local time, students left their classrooms to honor the victims of the Parkland, Florida school shooting and advocate for greater gun control. 
 Here in our Diocese, Catholic schools marked the occasion with prayer services and thoughtful discussion. At Notre Dame High School in Riverside a sea of green and grey clad students flooded the quad. Lucy Mumford, 14, was among those who wanted to make her voice heard.
 "I think it's important to send the message to Congress," she said. "If you're not going to do anything, students will."
 These passionate teens provided more than lip service. They weaved through the crowd with information on voter registration and "Resistbot," the free service that turns your text message into a formal letter, then faxes it to elected leaders. Many students said it's time for politicians to stop talking and start doing.
 "We just want something to be done rather than this be a Democrat or Republican issue. We just want to protect students and schools," explains John Vargas, 18.
 The idea of a mass killing is particularly sobering at a small school like Notre Dame because, as students point out, even if you survive, someone you know will not. 
 "We're very intimate because of our size. I can name everyone in sight right now. We're very close," says Vargas.
 Some 3,000 demonstrations took place across the nation, involving an estimated one million students. Bradvica says it feels "awesome" to be part of such a massive youth movement.
 "You can connect with each other so much better because they're kids just like you. We know what we're talking about; we're the actual students facing this problem."
 It was also important for schools like Notre Dame and nearby Aquinas High School to look at the issue of school violence through the lens of their Catholic faith.
 "It's part of what we do at Notre Dame. Because of our Catholic identity we go back to God for guidance," explains Bradvica.
 David Baltierra, 17, agrees.
 "Notre Dame students are very politically conscious, politically active. We try our best to mix our Catholic morals with our political values."  
 Meanwhile, a less political and more somber event was underway at Aquinas in San Bernardino. Students united for prayer and reflection in the gymnasium. Front and center; a table with framed photos of the victims and 17 empty chairs to signify each life lost. Students read the victims' biographies then placed on their chairs an object, like a football or a flag, that reflected an interest of the victim.
 Following the prayer service, the entire student body processed to the statue of the Blessed Mother outside the school's chapel and laid flowers at her feet. Principal Chris Barrows says teachers engaged students in meaningful discussions about societal violence and teens in trouble. 
 "It's really raised awareness in our kids," he said. "A lot of kids will come and say 'My friend is dealing with this.' " 
 Barrows says his students are encouraged to talk to the administration if they see a classmate struggling. 
 Notre Dame students were allowed to participate in the walkout as long as they stayed on campus. Parents were notified in advance by letter and students who did not wish to participate were allowed to remain in their classrooms. In the end, student organizers at Notre Dame were pleased with what they accomplished. Senior Jacob Pabalan knows there are varying opinions on campus and welcomes the debate.
 "Shooting guns is fun, it's cool. Is the cool factor worth the danger it represents? I don't think so," he says. "Someone here might disagree and I'd love to talk to them about it. I think the AR-15 is too dangerous to be legal."
 An AR-15 style semi-automatic rifle was used by Nicolas Cruz, the 19 year old charged with the slayings at Marjory Stoneman Douglas High School in Parkland. Students at Notre Dame wonder about their risk of being targeted.
 "A lot of times I'll come to school thinking there's a possibility that maybe my school will be the next school," Baltierra worries. "Maybe I'll be the next victim you see in the headlines."
 "I don't cower in fear when I come to school but I do recognize there is a genuine danger. There is a fence right there. Someone could stand right there and shoot us," says Pabalan.
 Notre Dame has heard these concerns and recently brought in an active shooter expert to work with teachers.
 "Having that training right after the Parkland shooting, the teachers really responded," says Assistant Principal RaeAnna Ashton. "They wanted to make sure their classrooms were up-to-date. They even gave us suggestions and we said 'great,' we will do whatever we can to help."
 That's all many of the Notre Dame students want; movement in the right direction.
 Says Pabalan, "I've been told recently 'You know nothing is going to happen.' I'm not naive. I know our walkout isn't going to be the solution to gun violence. The point of today is getting our voices heard."
 And if nothing happens…Mumford says...
 "I'll just keep protesting." 
---
 Natalie Romano is a freelance writer and a parishioner of The Holy Name of Jesus in Redlands.