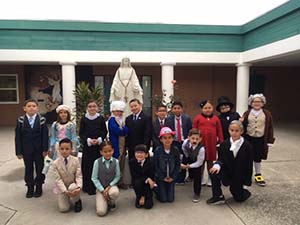 SAN BERNARDINO—Where else can you get a photo opportunity with George Washington, Teddy Roosevelt, Ronald Reagan, George Bush, Jimmy Carter, and Abraham Lincoln among other illustrious presidents, or First Ladies Jaqueline Kennedy, Louisa Adams and Martha Jefferson?  Only at Our Lady of the Assumption School in San Bernardino.
 OLA's second grade class, under the expert guidance of teacher/tour director Jennifer Houghton, presented to parents and students a Presidents Day rendition of past leaders of our country.  Students prepared a brief presentation for peers and parents and dressed as their president of choice.  Mrs. Houghton also encouraged students to dress as presidents' wives, if they so chose, as the ultimate influencers of their time.  The students researched their chosen personality, dressed in clothes appropriate for their character, and filled the room with presidential knowledge.  
 "The second graders really got into the personalities of their people,"  Mrs. Houghton remarked, noting the excitement of the students. "Dressing the part made it come alive for them."  
 The second graders gave their presentations several times throughout the day.  
 "I like having a day off," remarked Marley, donning Jaqueline Kennedy's signature pill box hat as part of her costume, "but showing all the big kids how we're the presidents is great, too."