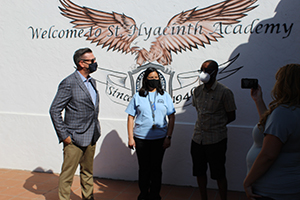 SAN JACINTO—St. Hyacinth Academy has been a pillar of Catholic education in the San Jacinto-Hemet Valley for 74 years. It has been a part of the whole community in the formation of young people, not only in academics, but also in moral values and faith.
Since the COVID-19 pandemic hit, many St. Hyacinth families have suffered financially, as many lost their jobs or had their work hours cut; or lost revenue from their businesses. This gravely affected their ability to send their children to a Catholic school. Most Catholic schools, being tuition-based, have felt the effect of this global crisis. For a small school within a community that's not affluent, the financial effects are even greater.
As the school year ended, the projected 2020-21 enrollment numbers at St. Hyacinth Academy were so low that the school's ability to sustain itself, financially, was in question. In order to open for the next school year St. Hyacinth needs a dramatic enrollment increase.  As news of this spread throughout the school community, administrators, parents, teachers, and staff came together to make their voices heard, and to give a strong push for enrollment.
On June 29th, school supporters were on Hemet News live with Eddie George behind the camera. Parents, students, alumni, teachers, staff, and administrators spoke about the wonderful things St. Hyacinth Academy has to offer and the value that it has within the community. All these voices sounded the same message—St. Hyacinth is a precious foundation of the valley, where everyone feels they belong to a family; where the foundation of the academics make students prepared for high school and for life; and where values and faith are given as much importance as learning and instruction.
On June 30th, we were graced by the presence of Mr. Andrew Kotyuk, mayor of San Jacinto, an alumnus of St. Hyacinth Academy. He reminisced about his years at St. Hyacinth, and acknowledged that the foundation for his academics and faith has made him what he is today—a man of service to the community.
Being the only Catholic school in the Hemet-San Jacinto Valley, San Jacinto needs St. Hyacinth Academy. In a world gripped by fear and division, here is a school that forms children to be active Catholics, lifelong learners, effective communicators and responsible citizens. Anyone with the means to assist St. Hyacinth Academy financially or through the promotion of the school for increasing enrollment can contact Grace Lacsamana at 951-654-2013.