"Sometimes I don't even use a brush. I just use my hands. When you do that, you feel connected, you feel free." 
 Free to create the lively artwork he's surrounded by... Just enter his office at St. Louis Parish in Cathedral City and you'll see evidence of both priest and painter. It's no surprise since their roots are intertwined. While at Assumption Seminary in San Antonio, Texas, Fr. Guido was encouraged to pick up a hobby along with his ministry. 
 "We had a studio and some of the seminarians had wonderful paintings. They gave us a box of supplies, starter kits like you'd get at Michael's," he recalls. 
 And more than a decade later, Fr. Guido still paints. He doesn't have a studio anymore but creates an atmosphere ripe for artistic expression. With music playing, he stages an easel near the plants he's pruning, pours the coffee he's just ground, then grabs the brush. The acrylic images that follow are usually bright, usually bold and often abstract.  
 "I like to paint what I see but not with the eyes, but the heart. I think that's where the art is."           
 Which is why Fr. Guido often paints scenes from his native Mexico. Some are playful, some are not. Take his depiction of a highway sign posted at the U.S./Mexico border. It warns drivers to watch for immigrants who may be crossing the road on foot. Fr. Guido wanted to offer a different perspective. 
 "This is about the issue of immigration. That's why it's caution, prohobito. It's prohibited. But see the mother and the little girl. The mother is carrying a Rosary, she's in prayer." 
 Fr. Guido admires Mexican painters like David Siqueiros and Diego Rivera. Both tackled social justice issues with their controversial art. Fr. Guido likes to turn heads, too, but admits that with one of his paintings he may have gone too far in the eyes of his mom. 
 "I gave her a painting of Christ. She refused it. She didn't like it," he laughs. "She said 'what is that? Looks like Che Guevara.' " 
 "It provokes. At least it provokes my mom." 
 Fr. Guido says that kind of reaction is something every artist has to deal with. He urges the novice not to get defeated or get caught up in comparisons. Although he admits, sometimes you may feel better about your own work. 
 "I have seen things in museums or airports and I thought, 'this is art?' Mine could go up there!"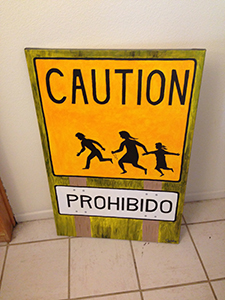 And yours could, too, according to Fr. Guido. He encourages others to give painting a try. He's even passed out kits like the kind he received back in seminary. Laura Lopez, who ministered with Fr. Guido at Our Lady of Perpetual Help Parish in Indio, still wasn't convinced. 
 "I stared at that bag next to my desk for six months," recalls Lopez, who is now Director of Pastoral Planning for the Diocese. "And for six months Fr. Guido asked 'When are you going to open that bag?' I was afraid to make a mistake." 
 After finally mustering the courage, Lopez discovered she took pleasure in painting and the added bonus of "me time." 
 "I was busy with so many ministries," she says. "My husband said, 'what are you doing?' But this was time just to be with myself." 
 Little by little, she picked up techniques from Fr. Guido then developed her own talent for landscapes. Fr. Guido says he's wowed by his pupil's growth. 
 "She has beautiful paintings. She's surpassing the master!" 
 But the master doesn't really mind. 
 "Life is very short. If God gives me the chance to learn many things then I will do them. If I can share what I've learned then I will do that, too." 
 Fr. Guido not only credits God for his talents but views God as an artist as well. In fact, the original artist. 
 "Isn't it God who created art when He created man, the world? God saw all he had made and indeed it was very good.
---
 Natalie Romano is a freelance writer and a parishioner of The Holy Name of Jesus in Redlands.