Part One | Part Two | Part Three | Part Four

Twelve men tell their stories as they prepare to be Ordained

By Malie Hudson

 On August 24, Bishop Gerald Barnes will ordain 12 men as one of the largest diaconate classes in the Diocese's 41-year history. 

 The deacon candidates come from diverse backgrounds and represent four of the six vicariates. As they approach Ordination day, the men reflected on their journey to the Permanent Diaconate.
Juan Antonio Rodriguez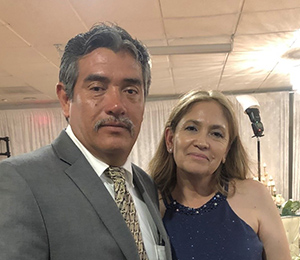 Wife: Lorena Rodriguez
 Home Parish: St. Charles Borromeo, Bloomington
 Occupation: Small Business Owner
 Ministries of Interest: Marriage Preparation and Natural Family Planning
 Reflections on Diaconate and wife's role: About ten years ago, I began to feel my calling to the Diaconate vocation. After discussing with my wife and daughters, we began to pray.
 After three years of meditating, I received the invitation from two different priests, a nun and also a layperson. With my family's support, we decided to submit my application to the formation of the Diaconate.
 My wife has been a fundamental part of my formation. She has been a woman who has given me her moral, intellectual and spiritual support. In the most difficult moments, she has always been by my side. Without her and the support of my four daughters, it would have been impossible for me to complete my training.
 We will continue to work together on the needs that are required of us and providing support to the couples who require it.  
---
Juan Carlos Viveros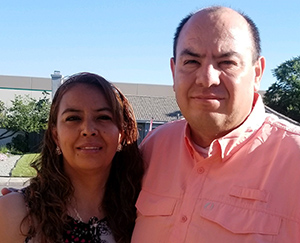 Wife: Maria Guadalupe Viveros
 Home Parish: St. John XXIII, Fontana and Rialto
 Occupation: Machine Operator
 Ministries of Interest: Visiting the sick, adult catechism, vocations, social justice, charity and liturgy. 
 Reflections on Diaconate and wife's role: My calling was confirmed in God's time and service to God, faith, hope and love. God has been calling me for a long time.
 There were signs around me that confirmed it and that I should come closer to Christ, service, charity and others in prayer. I was loving Him more and more through his Word.
 I began to discover my vocation when feeling concern for the formation of the Diaconate.
 I talked to my wife about entering formation and she said 'I am here to support you.' So I said, 'Here I am, Lord.' I began studying for the MFI, CMFP, the specialization of social justice and charity.
 Due to family issues, we had to wait a while but God kept insisting. Now here we are - coming to Ordination in God's timing.
 My wife was and is an essential part of this journey. Her support, company, help and patience as well as her love and prayers made this easier.
 We will continue in the hands of God to serve God and our community together. Working together to build the Kingdom of God.