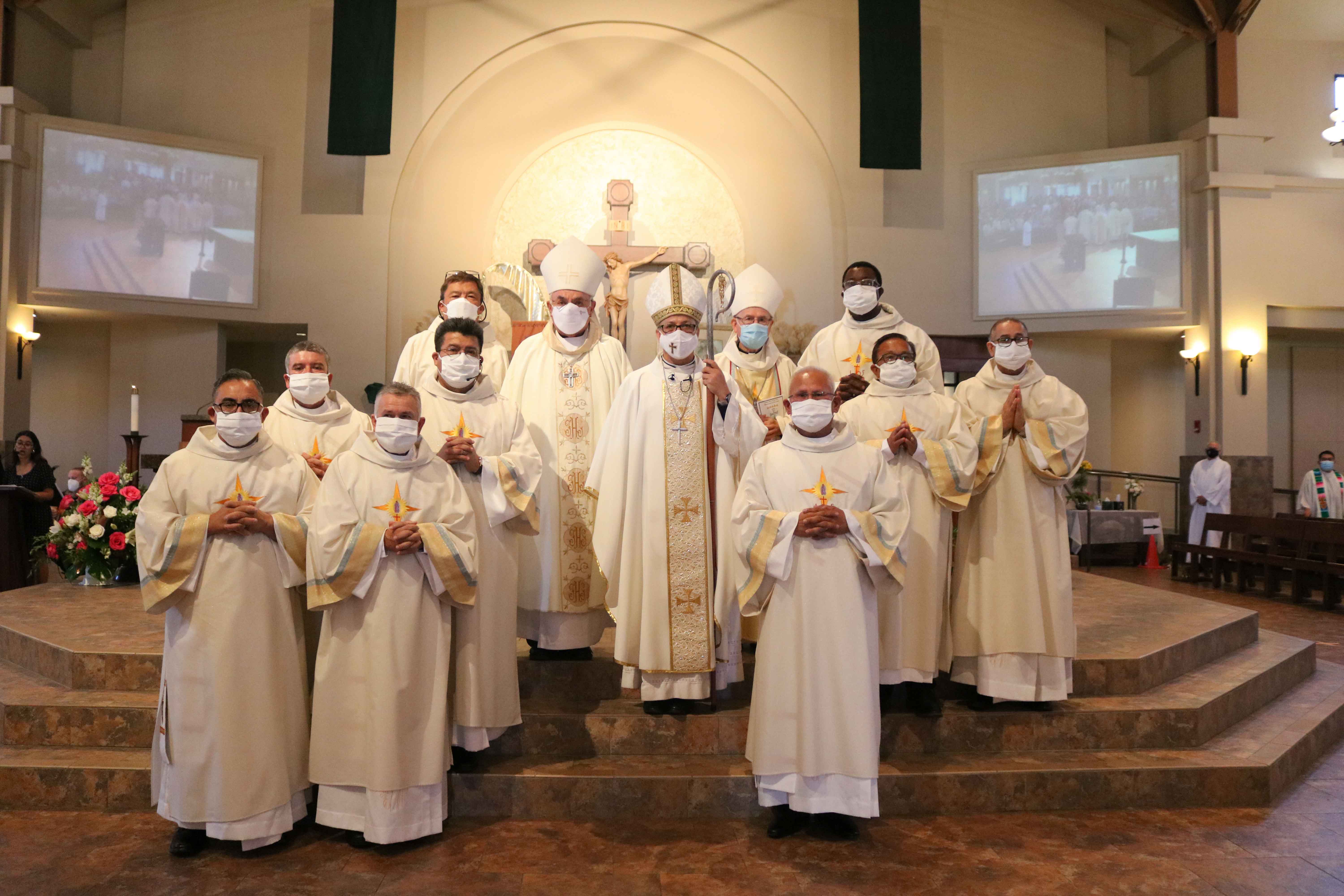 Bishop Alberto Rojas ordained nine men to the Permanent Diaconate on Aug. 28 at St. Frances Xavier Cabrini in Yucaipa.
The new deacons are Luis A. "Louie" Chanco (from St. Peter and St. Paul, Alta Loma), Daniel Ikechukwu (from St. Mel, Norco), Johannes "Locky" Lauran (from St. Adelaide, Highland), Javier Muñoz (from St. George, Ontario), Nel Rabe (from St. Peter and St. Paul, Alta Loma), Luis Antonio Ramirez Gonzalez (from Our Lady of Perpetual Help, Indio), Alfredo Razo (from Our Lady of Perpetual Help, Indio), Rene Quiroz (from St. Elizabeth of Hungary, Desert Hot Springs) and Enrique Serrano (from St. George, Fontana).
During his homily, Bishop Rojas expressed gratitude towards the nine men for answering the call to the Permanent Diaconate. "Despite the challenges and the struggles that we all have been going through during the pandemic, today we are joyful. Today we are grateful for these nine brothers who have responded to the call of becoming servants of the Lord in our Diocese.
"We give thanks to God for these men, and we thank you, brothers and sisters. We thank your wives, your families and friends, your communities, for their love and support throughout your formation ... we will continue to keep you in our prayers," said Bishop Rojas.
Bishop Rojas spoke about the various aspects of the new deacons' ministry – proclaiming the Word of God, assisting at the Sacrifice of the Mass, performing acts of charity in collaboration with the Bishop – and emphasized that they are called to do this with the help of God.
"Becoming deacons is not something you have chosen, but it is something that you are responding to. God has chosen you for this service before you were born," said Bishop Rojas.
After Mass, some of the deacons gave remarks, including Deacon Louie Chanco. "On behalf of my eight newly ordained brother deacons, we would like to express our highest praise and gratitude to our Lord, God the Father, the Son and the Holy Spirit, for instilling in our hearts the call to serve him as deacons," said Deacon Chanco, who also thanked everyone who had been instrumental in forming this year's class of permanent deacons.
The new deacons will receive their parish assignments on Oct. 1.
Below are photos of each of the newly ordained deacons and their wives posing with Bishop Rojas, Bishop Barnes and Bishop del Riego.
Luis A. (Louie) & Arlene M. Chanco
Daniel Ikechukwu & Evangeline N. Ezekwe
Johannes (Locky) & Selly Oei Lauran 
Javier & Maria Muñoz
Nel & Nelly Rabe
Luis Antonio Ramirez Gonzalez & Ana Maria Ramirez
Alfredo Razo & Ana M. Razo Gonzalez
Rene & Veronica Quiroz
Enrique & Isabel Serrano