By Natalie Romano
The newest class of seminarians are bringing a sense of camaraderie to St. Junipero Serra House of Formation in Grand Terrace. Even though the men vary greatly in age and history, they say they're looking forward to building their brotherhood. The Diocesan Office of Vocations calls the group of four "devoted."
"They're committed to their faith, committed to the truth," said Father Hau Vu, Associate Director of Vocations. "They want to spread the truth and the beauty of our Catholic faith."
Fr. Vu went on to say the seminarians are very human and humble and willing to serve in whatever capacity God asks.
Jose Cortez
He could have been another troubled teen headed for nowhere good, but Jose Cortez says a confirmation retreat changed his life forever.
"During Adoration, when I was praying, God told me to enter the seminary to begin the path towards the priesthood," said Cortez. "To me, it was a big lesson. Before that ... it was a struggle for me to talk to God sometimes. I was like, why am I talking to God if I can't even hear him? Now I know that God is listening to me."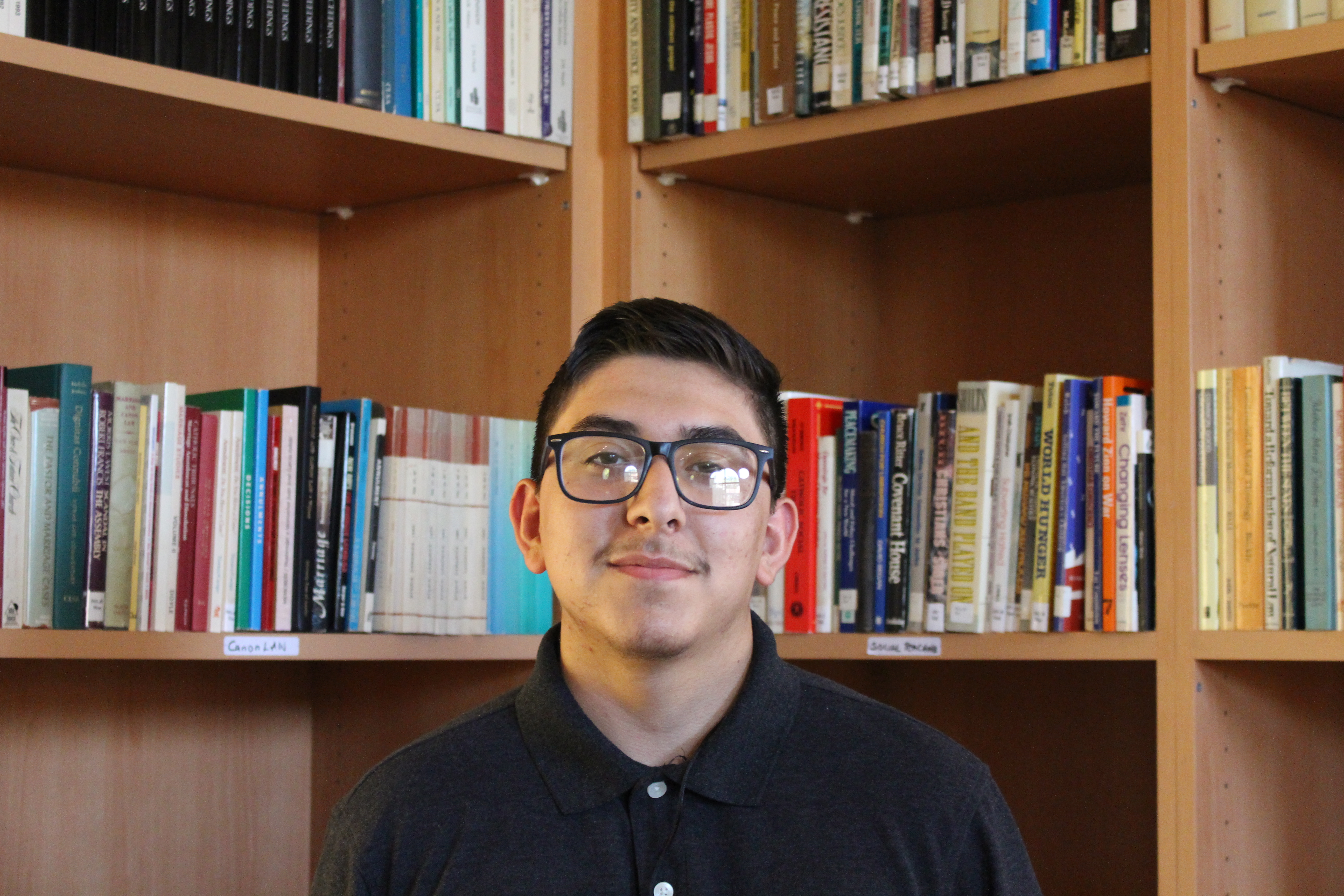 Despite this experience, the Hesperia high schooler was yet not convinced he was worthy of the collar.
"I started having doubts," admitted Cortez. "I thought God wouldn't really want me to become a priest because sometimes I mess up. I felt like I messed up so many times. I started to hang around the not so good kids at school. It was very hard."
Now Cortez thinks maybe that's exactly why God called him. He imagines that as a priest, he could help teens who are struggling.
"A lot of young people, I feel, are getting lost in the world," said Cortez. "He needed me to rise up against the tide of drinking and drugs and addiction. He wants me to calm the waves of all the sins of the world."
Cortez says he was inspired by Father Reginald Ibe and Father Jose Antonio Orozco from his home parish, Holy Family, as well as his sister who wants to become a nun. However, Cortez's desire to be a priest may have existed long ago.
"When I was about eight years old my mom asked me a question and she said I answered with the kind of wisdom only God could have given me," explained Cortez. "Then she asked me if I wanted to become a priest and I said 'yes.' "
Now at the age of 17, Cortez is the youngest of the seminarians and understands he has a lot to learn.
"I hope to expand my knowledge of my faith," said Cortez. "I hope to really get to know God and be one-on-one with God with no distractions."
This is the first time Cortez has moved away from home. He says he's excited to befriend the other seminarians but will miss his family because they're "a close bunch."
Besides spending time with friends, Cortez loves playing sports and collecting Funko Pop figurines. He also likes reading history books and the Bible. As Cortez starts his new life at Serra House, he thinks about St. Francis of Assisi, who left his family and gave up worldly possessions for a humble life of service.
"I want to do that, too. I want to give everything to God and become a priest," said Cortez.
Celsus Robert
On the other end of the age spectrum is 48-year-old Celsus Robert. One might describe his journey to the priesthood through the saying, "you can run but you can't hide." Robert started seminary in his native St. Lucia but didn't feel the religious order there was for him. He came to America, got an education and had a successful career as a social worker in Los Angeles. But Robert says God wasn't done with him.
"One morning I was praying and got a faint call saying that I needed to go back to seminary. I literally said, 'Oh, no,' " said Robert with a chuckle.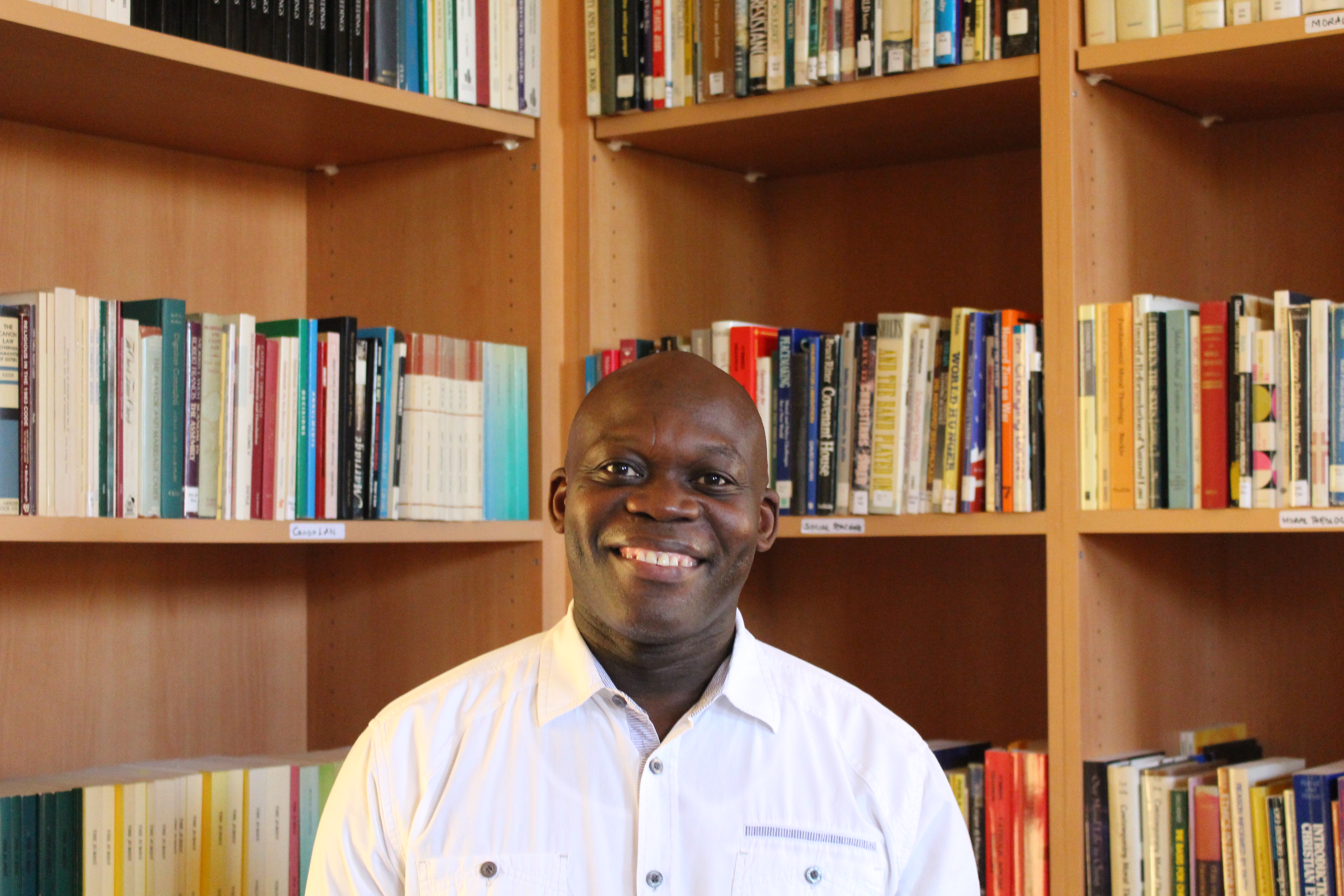 Yet he found himself opening his laptop and applying to seminaries. He spent three years at Sacred Heart Seminary in Wisconsin then decided he would rather be a diocesan priest. Robert ultimately settled on San Bernardino because it felt down to earth to him.
"The seminarians are so welcoming, saying, 'Do you have everything? Are you ready to come?'" said Robert. "The love I'm getting from the guys at the seminary just amazes me."
Robert says he doesn't mind being the oldest of the group. He hopes his previous experiences as a seminarian and a social worker benefit the others. "I can help them navigate seminary. I've had so much experience," said Robert. "I want to be a brother they can walk with."
Robert hopes to get to know the parishes and people of the diocese. He'll have just one year to do it because he's already completed his required philosophy courses.
He'll study theology and work at the Diocesan Pastoral Center before moving on to the next stage of formation.
Raised in an active Catholic family, Robert spent lots of time at church as both an altar server and choir member. His mother and siblings are overjoyed about his decision to become a priest. As Robert continues that process, he also looks to St. Francis of Assisi.
"Sometimes groups in a parish can become them versus us and I don't like that too much," explained Robert. "We can use St. Francis as a role model to bring people together."
Robert enjoys reading about the saints, biking on the beach and hiking. Despite his initial reluctance to return to seminary, he feels like he's on the right path now.
"I'm very happy with what the Lord is doing in my life and in my heart," said Robert.
Christopher Rodriguez
Christopher Rodriguez was always fascinated with the priesthood. It started in childhood when he first brought up the gifts during Mass. Instead of returning to the pew, he stayed up front, transfixed by what was taking place.
"I remember watching as the priest was preparing the altar and I thought wow, that's so cool, that's so beautiful," said Rodriguez, now 23. "That was one of the first inclinations I had that I might want to be a priest."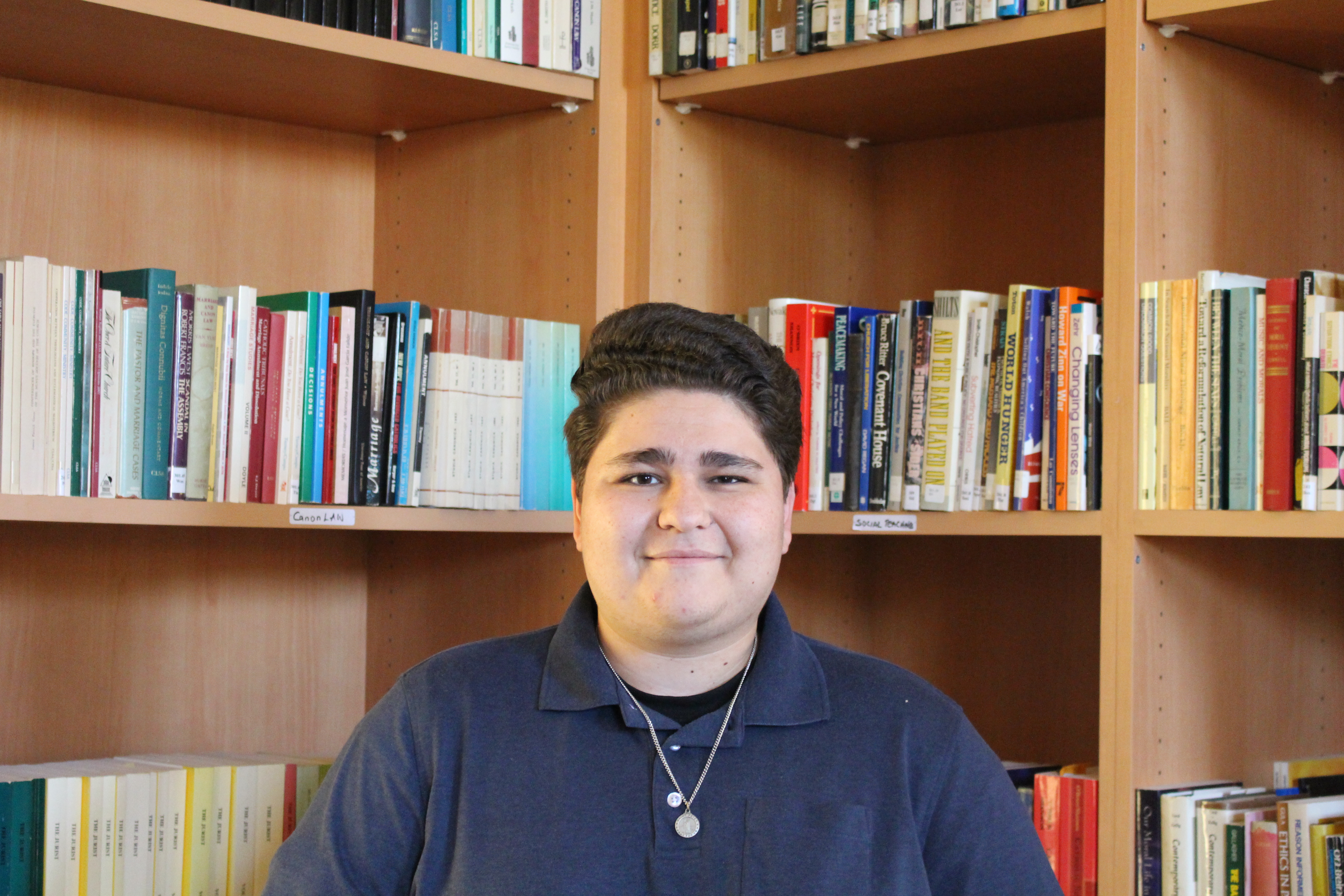 Following in the footsteps of his parents, Rodriguez was an active member of St. Francis of Assisi Parish in La Quinta. He served as a junior youth minister and attended Catholic retreats like the Steubenville Youth Conference. It was there, he says, he was exposed to Adoration and felt an "immense outpouring" of God's love.
At that time, he didn't think the priesthood was for him and went to college to study nursing. After a year, Rodriguez realized he'd rather serve the Church. He started working in young adult ministry but wondered if God wanted something else.
When the COVID-19 pandemic hit, Rodriguez was furloughed from St. Francis and used the time to discern. With the help of a Spiritual Advisor and the Vocations Office, he came to the conclusion he was ready for the seminary.
"I truly believe I had a God-shaped hole in my heart that I attempted to fill with the world," said Rodriguez. "It wasn't until my surrender that God filled that hole with His love ... l'm consumed by His love."
Rodriguez says he's ready to take on his studies at Serra House and will use the time to deepen his relationship with God. He is calling upon the intercession of his confirmation saint, St. Peter, to help him on this journey.
"[St. Peter] was just as broken as the next person," said Rodriguez. "In my brokenness, he gives me hope that I, too, can be on the path to sainthood, and God-willing, a good priest."
When not listening to his favorite podcast, "Clerically Speaking," Rodriguez enjoys geocaching and visiting amusement parks. He says he's grateful to all of those who are praying for him, particularly his family and friends. He describes the latter as happy and not at all surprised with his decision to pursue the priesthood.
"I was always drawn to the Church," said Rodriguez. "That's where I felt at peace and the most loved."
Anthony Gutierrez
Anthony Gutierrez was working as a digital designer when he found himself moving "closer to his faith" and questioning what God wanted from him. He says he got the direction he needed when working on a Bible app.
"One of the prompts was a line from Joshua 24:15, 'Choose today whom you will serve,'" said Gutierrez. "It was almost like God gave me a direct answer. It kind of hit me hard."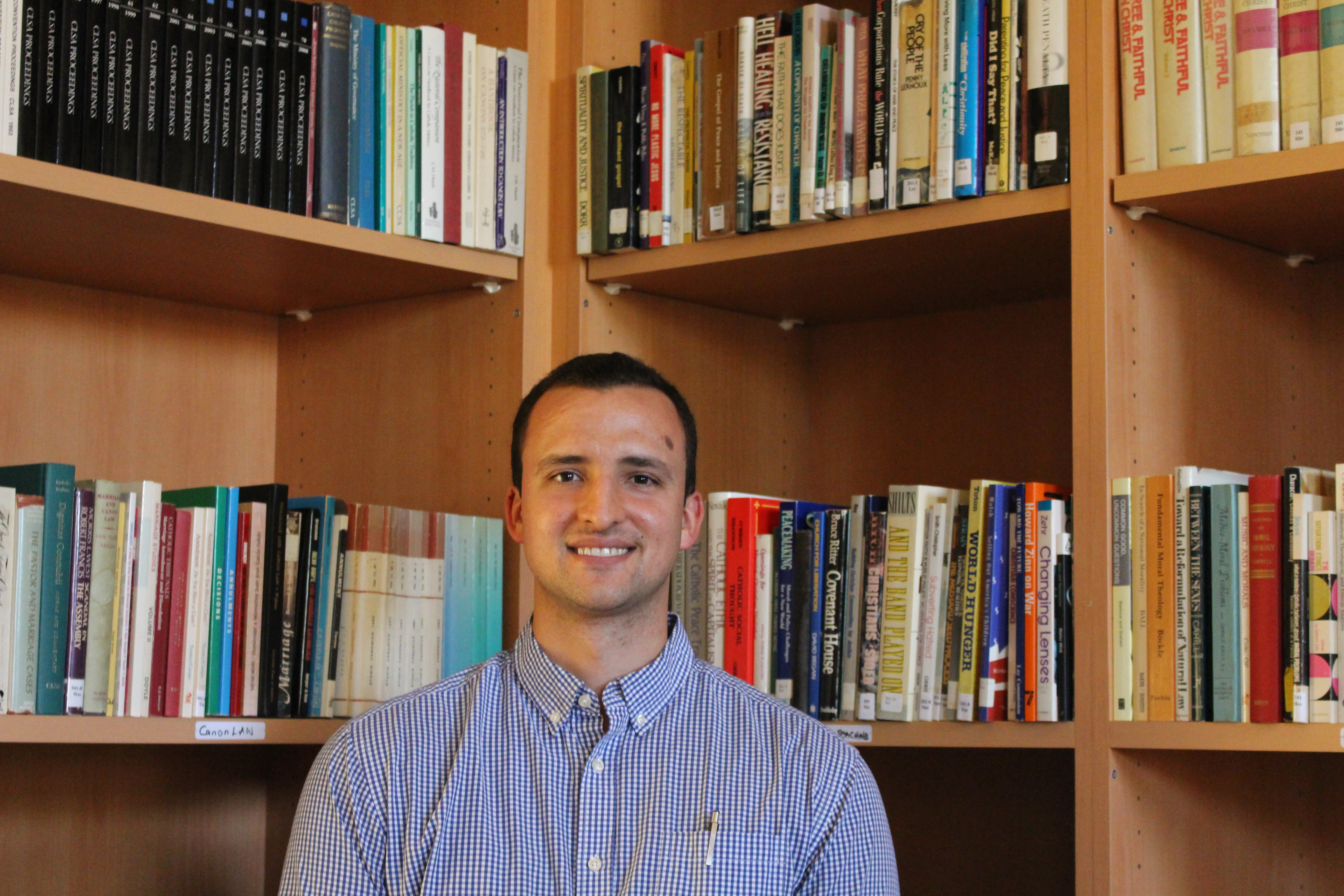 The Corona resident says it felt like God kept gently "pulling on his ear" in an effort to lead him to the priesthood. Those hints along with an internal longing for the spiritual ultimately led him to discernment and "a firm yes" to the seminary.
"It's all mysterious and I'm processing it," said the 28-year-old. "It's a beautiful thing."
Gutierrez wants to take the skills from his old life and use them in his new one. Consequently, he admires Blessed Carlos Acutis, dubbed the patron saint of the Internet. Acutis created a website cataloging miracles before he died of leukemia in 2006. Gutierrez sees the Internet as a powerful tool for evangelization.
"Sometimes this stuff can be a little dull and dry, especially for the youth," said Gutierrez. "I would like to come up with creative outlets to get them involved ... and foster God's mission."
He also looks forward to diving into the real work of helping parishioners in need. "I like Confession and spiritual counseling, the saving souls aspect of it," said Gutierrez.
Gutierrez attended Corpus Christi Parish where his family members have volunteered as catechists and altar servers. You'll often find him outside enjoying nature or exercising. He also likes a good game of cards or dominoes. He's currently reading "Divine Mercy'' and "My Daily Bread" for spiritual nourishment. Gutierrez says he's feeling confident about this "shared mission of discernment" with his new brothers.
"I think the important thing is we're all giving it a shot and we're all trying to live a life with Christ," said Gutierrez. "I know I can trust in Jesus and I know that he'll never leave me alone."
---
Natalie Romano is a freelance writer and a parishioner of The Holy Name of Jesus in Redlands.