By Natalie Romano

EASTVALE—An Eastvale Catholic Church may not have a building yet but it does have a "window into heaven."

 This so-called window is actually sacred artwork depicting the church's namesake, St. Oscar Romero. The icon was revealed to parishioners on November 25th during a Mass celebrated by Bishop Gerald Barnes. In light of St. Oscar's recent canonization, the Bishop came to celebrate the renaming of the parish, which currently holds Mass at an Eastvale public school.

 That day, the icon's artist looked on as Bishop Barnes consecrated her work.

 "I think it's one of the most beautiful things to see; the blessing and the veneration," says Vivian Imbruglia. "I always feel somewhat emotional. My work is done."

 Imbruglia, a parishioner of St. Peter and St. Paul in Alta Loma, has painted about 125 icons during the course of her 13-year career. Her work can be seen in churches, monasteries, and private homes.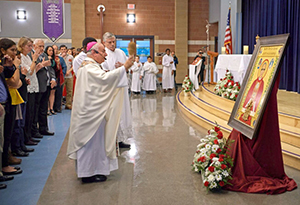 Imbruglia spent about a month creating her St. Oscar Romero icon resplendent with bold colors and emblems. Her portrayal shows St. Oscar at the altar with a bleeding pelican on his vestment, a Christian symbol of sacrifice. A red halo encircles St. Oscar's entire head signifying his martyrdom. 
 St. Oscar served as an archbishop in El Salvador and often spoke out against government violence there. In 1980, just one day after publicly condemning the military, St. Oscar was shot during Mass. In front of the St. Oscar icon is blood from his shirt encased in a golden reliquary. This first-class relic was obtained on a pilgrimage by the church's founding pastor, Father Patrick Kirsch. Imbruglia wanted the icon to include the countless citizens also murdered by the government. When Fr. Kirsch went to El Salvador, Imbruglia saw her opportunity. She asked him to bring back some native soil, which she then ground into dust and mixed it with the paint she would use to create the icon.
 "These people can't be named one by one," she said of the Salvadoran victims of government violence. "They're not going to be canonized as Saints but I'm sure they died for their faith. This is how I can honor them." 
 Fr. Kirsch is pleased with the results and says Imbruglia's portrayal of St. Oscar is spot on.
 "Vivian, of course, put her heart and soul into it," he says. "She's gifted. She was able to capture the essence of his life."
 Fr. Kirsch did more than bring back the blood and soil for the icon, he painted part of it, too. Imbruglia brought the near finished work to the parish office and invited staff members to pick up a brush.
 "I was a nervous wreck." admits Fr. Kirsch. "I put a glaze on the roses that are on the bottom so that was my contribution."
 Others painted in the olive branch leaves that run along the sides of the icon. 
 "The staff was delighted." says Michael Donaldson, Parish Development Director. "It didn't feel like we were painting, it felt like we were praying. It really united us."
 The group effort didn't stop there. The framer Imbruglia always uses for her work is from El Salvador and says his father was once St. Oscar's driver. Consequently, Imbruglia allowed him to pick out the frame. Now that the icon is complete, Fr. Kirsch says it serves as a focal point for his congregation.
 Established in 2015 as Blessed Oscar Romero Parish, it is believed to be one of the first in the world ever named in his honor.
 "A lot of times, people in parishes know the names of the saints but they don't know anything about them," says Fr. Kirsch. "Even myself. I had gone into Saint Adelaide Parish when I was an associate pastor and I didn't have a clue as to who she was. So, this icon is a way for us to have a teaching moment about his purpose."
 Imbruglia also tries to connect with each Saint she paints, keeping an image close by as she works. She says it inspires her art and fuels her faith.
 "It's what we do as Catholics; we venerate, so I do call upon on that particular Saint for help. When you truly venerate, the saints speak to you through your soul, your heart."
 Because of that heavenly help, Imbruglia says she can't take full credit for her work and never signs her name on the front. Hidden in every painting though, is her adopted Jesuit motto...Ad majorem Dei gloriam or AMDG.
 "When I'm painting and things get a little tough I always remember it's not for me it's all for God's glory."
---
 Natalie Romano is a freelance writer and a parishioner of The Holy Name of Jesus in Redlands.