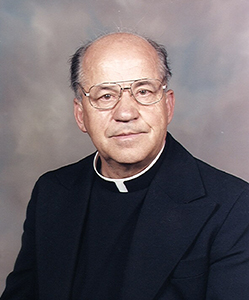 Fr. Chester C. (Czleslaw) Kopec, 83, was called to his eternal rest on July 21 in Fontana.
Fr. Kopec was born on July 7, 1937 in Poland to Franciszek and Adela Planeta Kopec and was baptized on July 20, 1937 at Smegorzow, Poland.
He attended local schools and colleges and the Oratorian Seminary in Tarnow, Poland. He was ordained to the Congregation of the Oratorian Fathers on June 29, 1963 by Most Reverend Jerzy Ablewicz.
Following his ordination, Kopec did priestly ministry in parishes in Poland and pursued studies in Theology, graduating with a Master of Theology degree from Catholic University, Lublin in 1977 and a Licenciate from the Pontifical Faculty of Theology, Kraców in 1980.
After spending some years in parish ministry in Winnipeg and Victoria, Canada, to be in a more congenial climate, he requested to transfer to the Diocese of San Bernardino in 1979.
He as assigned as associate pastor by Most Reverend Phillip F. Straling to St. Edward parish, Corona and later as Administrator at St. Madeleine Sophie Barat parish, Trona.
He was incardinated into the Diocese of San Bernardino on October 6, 1983.
Soon after, Fr. Kopec began a long term of dedicated chaplaincy service until his retirement in 2004. He served in Chuckawalla Valley State Prison, Blythe; County Hospital, San Bernardino and for 14 years in California Institute for Men, Chino.
In 1986 he became a United States citizen.
Fr. Kopec, one of seven children, is survived by his sister, Teresa Kolodziej.
Mass of Resurrection was celebrated on August 13 at Our Lady of Queen of Peace Cemetery, Colton and entombment followed in All Souls Chapel and Mausoleum, Colton.