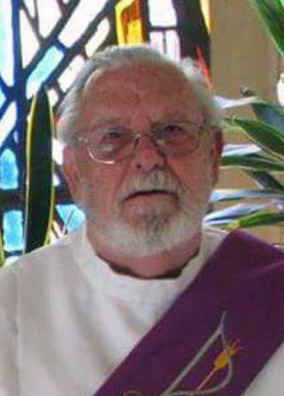 Deacon Don Burgett of Barstow died Monday, October 19, 2020 at 2:15 p.m. from Double Pneumonia and Congestive Heart Failure. He was 86 years old. Deacon Don has been ill for the last several years due to COPD and Afib. Deacon Don just celebrated his 30th Anniversary of Ordination to the Diaconate on September 15, 2020.  He was ordained as permanent deacon on September 15, 1990 at Our Lady of the Rosary Cathedral in San Bernardino by then Bishop Phillip F. Straling.
Deacon Don has been a resident of Barstow since 1945 where he first started serving St. Joseph's Catholic Church, as an Altar Server, He has served his parish for 75 years of faithful service.
Deacon Don has also assisted in the parish communities of St. Philip Neri's Parish, Barstow, Our Lady of the Desert Mission in Baker and St. Madeleine Sophie Barat Catholic Church in Trona. He has also assisted at the now-closed Baker and Boron Prisons, Rimrock Convalescent Home, and Barstow Veterans Home. He has dedicated his time visiting the sick, the poor, home-bound and those that were hospitalized. In addition, Deacon Don had served as auxiliary M/C for Bishop Phillip Straling and Bishop Barnes for many years.  
Upon graduation from Barstow High School in 1952, Deacon Don Burgett served his country in the United States Navy assigned to the U.S.S Antietam CVA 36 and the U.S.S. Tarawa CVA 40 during the Korean War. After returning home, he joined the Barstow Fire Protection District, first as a volunteer firefighter in 1956 and then as one of the first paid/career firefighters in 1958, retiring as Fire Chief in 1984. During his fire career; he earned the distinction of being named "Firefighter of the Year" in 1960 and 1980. In addition, Deacon Don was elected the Fire District Board of Directors for 3 – four year terms – serving the Barstow Fire Protection District for over 40 years. Also, Deacon Don was elected to the Barstow Unified School District for 3 terms during the 1970's serving as Trustee and President.
On March 22, 2015; Deacon Don was recognized by the City of Barstow for his many years of service. He received a plague that read ". . . Throughout the years, Deacon Burgett has made himself a valued member to the City of Barstow and distinguished himself by this exceptional performance, dynamic leadership and exemplary devotion to the Community of Barstow and St. Joseph's Parish in addition to his outstanding service for the well-being of our community"
In February 2015, the Barstow City Council dedicate a portion of Mountain View Street in front of Saint Joseph's Church in honor of Deacon Don Burgett, Deacon Margo Saenz and Deacon Francis Roman who have served the parish and greater community for over a combined 100 years, coinciding with St. Joseph's 100th Anniversary Celebration.
Recently, The Most Reverend Gerald Barnes bestow his Episcopal Blessing upon Deacon Don Burgett "on the occasion of his 30th Anniversary of Diaconate Ordination; in Appreciation for the many years of dedicated service and tireless ministry for the people of the Diocese of San Bernardino; and for your unconditional love and support of your family"; given on 15 September 2020.Deacon Don Burgett at the time of death was surrounded by his son Danny and the priests and deacons of St. Joseph's Catholic Church Barstow.