By Fr. Erik Esparza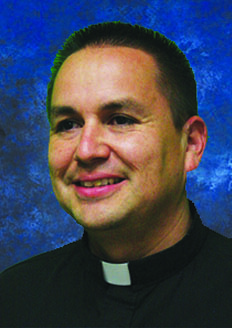 Each of us experience change every day in life. Some changes are positive and others negative. Most of the time, we respond to daily changes without much thought, for we have learned to accept, adapt, anticipate, and manage while maneuvering throughout the course of a day.
 From time to time along the journey there will come changes that forever alter one's life and direction. The uncertainty of the moment can cause one to feel great anxiety. Situations that bring about major changes in one's life could include a move, new job, health diagnosis, graduation, death of a loved one, unemployment, financial loss, marriage, unexpected illness, the end of a relationship and the list goes on. Not all major changes in life are negative, nevertheless, whether a major change is positive or negative, it doesn't mean one does not feel anxiety because of the uncertainty of the moment.
 The uncertainty in times of major change causes each of us to wonder - what is next? Forced to confront this reality, further questions do arise. Will things work out? Will I be okay? How will life be different? In a world where we expect a quick answer to many of life's questions at the click of a Google search, facing transitions where there is no quick or easy answer can be frustrating and difficult. Why can't we just know what will happen next? Why don't we just hear God's voice speak to us as clear as the voice of a parent saying to a child, "it will all be okay!"
 So what do we do when life's questions are not so quickly answered? We turn to God's word, God's revelation, God's promise. In the First Letter of Peter 1:7, we hear, "Cast all your anxiety on Him because He cares for you." In Psalm 37:5 we are invited, "Commit your way to the LORD; trust that God will act." And in Isaiah 30:15 we hear, "For thus said the Lord God, the Holy One of Israel: By waiting and by calm you shall be saved, in quiet and in trust your strength lies," and in Hebrews 6:15, "And so, after patient waiting, he obtained the promise." God does speak to us. God does tell us it will be okay! Perhaps God does not speak with the straight lines we desire, but, after all, we must remember, God says in Isaiah 42:16, "I will lead the blind on their journey; by paths unknown I will guide them. I will turn darkness into light before them, and make crooked ways straight. These things I do for them, and I will not forsake them."
 As Scripture reminds us, no matter where we may be or what we are going through, if we commit to God, we trust God will act, and we serve God as we patiently wait, God will not forsake us. God will show forth His promise, a promise of new life, a new beginning!
 Now go forth and be a joyful witness!
---
 Fr. Erik Esparza is Director of the Office of Priest Personnel in the Diocese of San Bernardino.