By Fr. Erik Esparza, JCL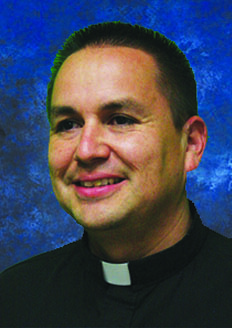 A new year brings new opportunities and a new chapter in one's life. At each turn of the page there is a clean slate ready to begin anew. As we journey forward in faith we must be willing to challenge ourselves to grow.
I remember once when I was challenged with two specific questions. The first challenge: Do I put God above ALL things in my life? The second challenge: What keeps me from putting God above ALL things and do I have the courage to CUT IT OUT of my life?
 Wow, talk about challenging questions. At first, my immediate response to the two questions is 100% yes! I would desperately like to believe that God is above all else in my life and that I have the courage to cut out anything that comes between God and me. However, in all honesty and upon further reflection, I have to admit unfortunately, the answer is no, not always. Those two questions challenge me to more concretely ask myself, "What else do I put before God?" and "Why is it so hard to cut it out of my life?"
 Each of us in our journey of faith need to be confronted with tough questions so as to not remain stagnate nor too lax. We are confronted day in and day out with distractions that keep us from putting God above all things. Some of those distractions are not necessarily evil or wrong, nevertheless, they can remain an obstacle that does not enhance our relationship with God.
 Oh, how I wish it was so easy as the Gospel calls us to cut it off or to pluck it out of our lives. When it is a challenge to remove obstacles or distractions from our lives, what are we to do? Do we throw our hands in the air and give up? Do we really believe it just isn't possible? The answers to these questions are not easy, but there is really only one answer, PRAYER. Prayer has to be much more than petition. We cannot just simply allow prayer to be a list of needs that we have for God! Sure, God tells us to ask for what we need, but it cannot be reduced to that alone. Prayer is about relationship and communication with our God. Prayer is about reminding ourselves who is God and who we are before God's presence. Prayer helps us to connect and thus be able to trust that God's grace will give us the strength to live for God alone. Living for God alone doesn't isolate us, rather, it enhances our gifts and enables us to greater respond to our call from God. Prayer reminds us it will all be okay and that when we put God first, rather than our desires or emotions, we will encounter greater joy, purpose, and meaning for our lives.
 It may come as a surprise, but I don't always "feel" like praying. But I am sure a mom doesn't always "feel" like waking up at 3 a.m. for a crying baby nor a father always "feel" like working 12-hour days to provide for his family. Yet, the mother and father do these things and we also must act because love isn't only about "feelings," it is much about sacrifice. And it is in sacrifice that one can in unexpected ways encounter joy, purpose and meaning in their life. May this upcoming year 2020 create new beginnings for you and challenge you to always put God above all things.
 Now go forth and be a joyful witness!
---
 Fr. Erik Esparza, JCL, is Director of Priest Personnel in the Diocese of San Bernardino.