By Ted Furlow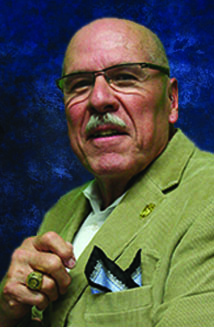 Every so often a melody gets stuck in my head.  Sometimes it is a commercial jingle, a Christmas song, a hymn from church, or God forbid, "It's a Small World." Recently I have been replaying Janis Joplin's "Me and Bobby McGee."
I have no sensible explanation for why I can't remember to get milk at the store, but somehow manage to remember the lyrics to a song that is 50 years old.  But there I am, "windshield wipers slapping time," riffing with Janis, as I repetitively buzz about Bobby singing the blues. If you were born after the 70's you may not know about Joplin, but I bet you understand what I'm saying since it happens to all of us.
There is a particular line in the lyric that stands out for me. "Freedom's just another word for nothing left to lose, nothing don't mean nothing honey if it ain't free." While the line fits into the story, it occurs to me that during the Lenten season shouldn't we all wonder about its application in the real world.  What in your life is truly free and represents freedom?  I'd be surprised if it isn't a short list.
When I ran the inventory in my own life, I found that it was headed by my relationship with God. That relationship is clearly an outright gift, I didn't pay for it, I didn't do anything to deserve it, it was free.  Also, its "nothing to lose" because it doesn't go away. In the times when I turned my back on it, it was still there.  In the times when I was more dilatory than dedicated, it was still there.  Wounded and sinful, when I crept back seeking shelter, it was still there.  And when I found myself at the foot of the cross, seeking hope, it was always there.
When Jesus went to Jerusalem for the last time, he taught, he healed, and he gave hope. Those are the lessons that I have learned from the freedom of Jesus, from the love of Jesus, from the ridiculously elastic mercy of Jesus, and from the forgiveness of Jesus. For me, Christ on the cross is not a prompt to penance, abstinence, or denial. Rather it fills me with gratitude, humility, and the fresh breath of its gift of freedom.
Back when Christians were Jews, in the first century CE, there was an obsession with the imminent coming of the Kingdom.  Jews and Gentiles, converts all, queued up for what they must have thought was either the final days or the start of a material kingdom on earth.
Obviously not.
For me, and I stress… for me, the Kingdom of God is an awareness of the freedom that our submission to the "God within" gives us.  While I firmly believe that there is something else to come on "getting up day," I also firmly believe that the Kingdom message of the crucified Christ is for the here and now. Jesus speaks to me today, and the measure of my commitment to his Word isn't found in penitential obeisance, but in my proudly proclaiming the gospels by my life, by my words, and by my works.
So, this Lent try putting away the sack cloth and ashes; don't flog yourself, give up chocolate, or make promises that don't last past Easter Monday.  Prayerfully, gratefully, and thoughtfully, share these days with Jesus as he moves toward the final acts of the Triduum, and celebrate Easter morning, loudly proclaim his rising by invoking the words of Martin Luther King, "Free at last, free at last, thank God almighty, we are free at last."
Freedom to be, you, me, and Bobby McGee.
---
Ted Furlow is a retired former Director of Pastoral Planning for the Diocese of San Bernardino and continues in marriage preparation ministry in the Archdiocese of Los Angeles.