"It's a creative thing. I like figuring it out," says the Parochial Vicar of Holy Family Parish in Hesperia and Vicar Forane for the High Desert Vicariate. 
 Fr. Fahnestock, M.S.C., is one of several priests in the Diocese with a knack for building. He learned woodworking skills as a seminarian then picked up welding as a priest. He garnered some old equipment from a parishioner and tested it out.
 "Things are hot and you get burned. You learn quick," he laughs.
  Or you learn young, as Father Ciro Libanati did. The Pastor of St. Joan of Arc in Victorville grew up in a beautiful old home in Argentina. During his youth he was often tasked with the maintenance.
 "I would rather have gone fishing but duty was first," he says, "in spite of the griping and complaints."
 Fr. Libanati and his brothers labored over kitchen marble, wooden floors, and cabinets.
 "I learn that beauty is hidden but is always there waiting to be discovered and shine." He notes the same can be said about people.
 Fr. Libanati has taken all those lessons to the parishes he has led. Perhaps his most notable project, a massive overhaul of St. Anthony Parish in San Jacinto when he was the pastor there. He managed the remodeling of the sanctuary, youth room and offices. 
 Fr. Fahnestock brings his know-how to work as well, making everything from candlesticks to Communion rails but one of his latest projects was much larger – a trailer.
 "I started with just four wheels and two axels." 
 Now it's a traveling medical clinic for missions to Maneadero, Mexico. Fr. Fahnestock is also constructing a second trailer for transporting clothes. He says he can't stop working after witnessing such poverty.
 "The people there are living in camps made of tarps and twigs. We bring food, clothing and build them a better place to live." 
 Those closer to home have also benefited from Fr. Fahnestock's hard work and heart.
 Vanessa Vaillancourt, parishioner at Sacred Heart, Rancho Cucamonga, was planning a wedding and her new household. 
 "I had seen an iron bed but it was very expensive."
 Then the decorating and dreaming had to be put on hold - Vaillancourt had cancer. While she was undergoing surgery, Fahnestock started building a bed.
 "When he wanted to do that, I was so happy," saidVaillancourt. "He's the nicest man I know. He's our family."
 Not only did Fr. Fahnestock make her furniture, he then went on to perform her wedding.
 All these labors of love help Fahnestock, too. The Priest of 45 years calls it "therapeutic." 
 "It gets you away from your problems. That's what hobbies do for everyone. You are refreshed and renewed for what you have to do."
 Very Rev. Monsignor Tom Wallace agrees. The Vicar for Priests and Director of Missions now works at the Diocese but spent decades leading parishes. 
 "As priests, we don't always see the outcome of our work. We dry their tears, they leave the room and we don't know what happens. With woodwork, I see the outcome."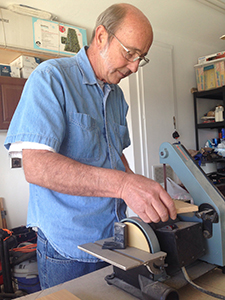 Msgr. Wallace began building in Blythe with a parishioner, little projects like Rosary cases and garbage cans. Now he's remodeled entire homes. His latest; a fixer-upper in Sun City.
 "This place was a total gut." But tool bit by tool bit, the Monsignor transformed everything from window sills to kitchen cabinets.
 "I had a whole year to do it. Every day off, it gave me a project. That's the beauty of having something to do on your day off. I don't play golf. I'm not an athlete. I wish I was but I'm not," he smiles. 
 Yet like an athlete, Wallace keeps developing his craft with classes and of course, practice. Sometimes with a new skill "I'd like to do inlay…" there's a learning curve.
 "I have many disasters," he admits. "I just throw them in the trash and start over."
 Woodworking may seem like a natural for a priest, considering it was the occupation of Jesus and his earthly father; something Msgr. Wallace keeps in his thoughts.
 "I pray a lot to St. Joseph. He's helped me with a lot of projects."
 Maybe through some injuries as well.
 "I cut one finger. See, it's kinda angled. There wasn't anything to stich, it was gone."
 Msgr. Wallace says don't let his injury scare you away from a saw and a useful hobby.
 "Start with small projects and work up. And just be safe, keep all you fingers!"
---
 Natalie Romano is a freelance writer and a parishioner of The Holy Name of Jesus in Redlands.