By Natalie Romano

 The Mass has been said, the parishioners have gone home, and the Roman collar comes off. Now what does a priest do? We take a look at just that in our series "Holy Hobbies." Learn about the hidden talents and trades of our priests. Could one of them be yours? Find out as we continue with Musical Men of the Cloth.


 Walking down the halls of the Nazareth House Retirement Home, you might be surprised to hear the electronic beats of a keyboard. No, it's not a visiting entertainer or a resident's grandchild, it's retired priest, and musician, Father Edward McGuinness.
 "I just like it to finger out a melody," he says. "I'm a real beginner."
 He may be new to the keyboard but he's hardly a musical novice. Fr. McGuinness has composed some 40 hymns and published a book of verse and poetry. He is one of many priests in the Diocese of San Bernardino with an interest and talent for music.
 Fr. McGuiness, who came to the Diocese in 1981 and would minister at St. Peter and St. Paul Parish in Alta Loma and St. Elizabeth of Hungary in Desert Hot Springs, first picked up a guitar decades ago when teaching religion to children.
 "We were in Ireland, far away from any big cities. There just wasn't any good children's hymns available so I created my own."
 Fr. McGuinness would either write original music, or new lyrics to old songs, folk tunes his students would recognize and enjoy.
 "After we finished a topic I would compose verses. For example, if studying repentance, I would sing about that and try to get the children to participate and they did."
 Father spent many a night writing words of faith.
 "I couldn't sleep so instead of reading, I was writing. When the Lord gives you an inspiration, you shouldn't shake it, you should cling to it."
 Father Miguel Ceja couldn't agree more. The Administrator of Our Lady of Perpetual Help Parish in Riverside often uses music in his ministry.
 "I believe that the talent that I have is a gift from God. Gifts are to be shared," he observes. "Thus, I play the guitar and sing as an integral part of preaching and living the Gospel."
 It all started when he was a 10-year-old boy in Mexico. Fr. Ceja says he joined a popular church choir that competed on an international level. When each child got to select an instrument, he says it was a tough call between the piano and the guitar.
 "I loved the piano but the guitar was more affordable and you could carry it around wherever you went." 
 The guitar even traveled with him into the priesthood. While parishioners are accustomed to seeing Fr. Ceja strum and sing in church, he also does it in concert. He has performed countless shows with Dez3, a band that plays spiritual music in Spanish. Fr. Ceja met the group when assigned at St. Christopher in Moreno Valley. Dez3 leader Ernesto Fernandez says their collaboration arose from a mutual passion for music.
 "After Mass, we started talking to Fr. Ceja because we sing, too, and we could tell he really had an interest in music. We started accompanying him during his homilies. Eventually homilies turned into church events which turned into concerts."
 Some people might find it strange to jam with their priest but Fernandez says not so. He feels Fr. Ceja takes the music to a deeper place.
 "What we really like about playing with him is how he connects to people. He writes these special songs that the audience reacts to." 
 Fr. Ceja addresses the struggles his parishioners face with issues like immigration and unemployment in what he dubs as his "protest songs." A fan of the socially conscious anthems of the 1960's, he cites Bob Dylan and John Lennon as favorites. When not professing for the people, Fr. Ceja voices his devotion to God with tunes like "Creo," about faith, and "Testimonio," about conversion.
 "I like to write and perform songs that have a positive message and lift hearts and motivate people. I have always found that music is the language of the spirit."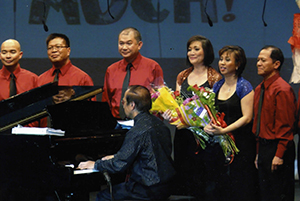 Even a priest's spirit, explains Father Art Mateo, MSC. The Parochial Vicar of St. Catherine of Alexandria in Riverside says there are times when a melody makes everything right.
 "Music expresses what can't be expressed in words. It enhances the mood. If I feel happy, the music makes me happier. If I feel reflective, the music is too." 
 Fr. Mateo was born into a large musical family in the Philippines. He started playing the piano at just four years old and discovered glee club at 18. As his love of music was developing so was his love of the Lord.
 "Music is my second vocation. I was studying music as I was studying the priesthood. They're twin vocations."
 He combines his two passions by conducting two choirs. First, the 80 member Filipino Diocesan Ministry Choir as well as a 40 member children's choir, something he launches at every parish where he is assigned.
 "Yes," he laughs, "It's instinctive. I like teaching children beautiful music. They feel joy in singing. They are happy and that makes me happy." 
 He says there's the added benefit of the children gaining musical knowledge and discipline.
 And of course, adds Fr. McGuinness, lessons about the Lord.
 "If you just listened to my music you might say that's quite nice, but various aspects of the theology are covered," he says. "The songs were written so something could be learned. There is tremendous ignorance of the faith. Music is a great way of reviving the faith."
 His personal collection of songs has also been revived. He recently shared them at a presentation to his fellow residents at Nazareth House.
 "A friend, a pianist started to write down my music. She made me see they were more valuable than I realized."
 Fr. Mateo also composes music and has just written two songs for his parish.
 He's well aware of their worth. 
 "I am a professional."
---
 Natalie Romano is a freelance writer and a parishioner of The Holy Name of Jesus in Redlands.